Kathryn Potts Appointed NEEFM Manager
2009-Sep-21
Newly formed organisation North East of England's Farmers Markets (NEEFM) has announced the appointment of Kathryn Potts as Manager.
Kate Potts at Newcastle Farmers' Market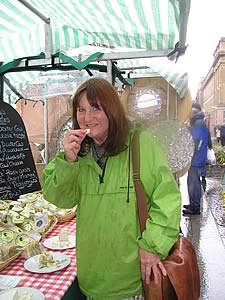 Having been both a market trader selling her own organic bread, and a market manager, Kathryn is uniquely placed to represent all the stakeholders involved in organising a successful market. She will be responsible for working with Farmers' Markets throughout the North East, from the Yorkshire border to the Scottish borders.
In her new role with NEEFM Kathryn will draw on her vast experience to manage the £100,000 Big Lottery funded project in a two-fold approach:-
To increase the profile of the region's farmers markets
To encourage more consumers to use their local farmer's market as their first port of call when food shopping.
She will also be encouraging more producers to use the markets as a selling platform while raising consumer awareness of local food and drink. By emphasising the social, environmental and health benefits of eating local, fresh, seasonal produce, NEEFM aims to create a long term sustainable future for its members.
Originally from Yorkshire, Kathryn's interest in food began early, aged eleven she was selling bread from a stall in Barnsley market. As a student, she trained in nutrition and her subsequent career path has continued to combine these early interests in food and commerce. She has also been involved in several overseas projects as well as being instrumental in obtaining Fair Trade status for Alnwick in Northumberland, the market town she now calls home.
So understandably Kathryn is looking forward to her new challenge: "I am very excited about helping to promote the fantastic Farmers' Markets we have in the North East. NEEFM is aiming to make them a social and economic hub for the whole community. We want the local Farmers' Market to be first place people think of when buying their food. As a nutritionist I know that this fresh, unadulterated is some of healthiest around and as a business woman I know how important thriving markets are to the local economy, not just to the market traders but the whole town."
Kathryn was a founder member of Local Living, the social enterprise responsible for the operation of Alnwick Farmers' Market. Through her involvement, she doubled the number of stallholders and launched a number of iniatives to increase footfall. In a career dedicated to the promotion of local food, she has organised training courses for small producers, instigated food awards for hospitality providers and produced a directory of local produce.

Malvern Autumn Show is a Real Feast!


Windfall for Farmers Markets


Water and Agriculture - BCPC Congress 2009