Skipton Beltex Sheep Show and Sale
2009-09-16
North Craven sheep breeder Stuart Currie sent out the supreme champion at the first time of asking when making his much-awaited debut at the Beltex Sheep Society's ninth annual production show and sale of pedigree rams and females at Skipton Auction Mart. (Sat, Sept 12)
Stuart Currie with his 2009 Skipton Beltex supreme champion, joined by judge Paul Slater.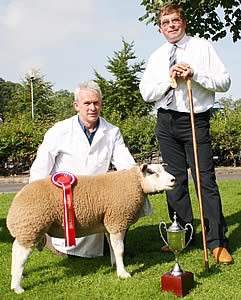 Mr Currie, of Beautry House, Rathmell, Settle, has been breeding pedigree Beltex for three years, but had been prevented from competing in the high profile fixture for the past two years, first by foot and mouth, then by Bluetongue movement restrictions.

He made up for lost time at the 2009 renewal when his seven-month-old ram lamb Beautry Nashwan first clinched the male title, before going on to take supreme championship honours, courtesy of judge Paul Slater, of Macclesfield, a noted breeder of Beltex-x-Texel rams.

The victor, third in class at last month's fourth annual Northern Beltex Club-organised National Progeny Show for pedigree and commercial Beltex, also held at Skipton, is by Rathbone Leader, placed third at the Great Yorkshire Show, out of a Rathbone dam.

Both were acquired by Mr Currie when he started his Beltex flock – he has been breeding Texels for 30 years and regularly sells prime lambs at Skipton - from neighbouring North Craven breeder Michael Davis, of Ravenshaw Farm, Eldroth, Austwick. The champion sold for 500 guineas to Northern Beltex Society chairman Robert Garth, of Birk Knott, Keasden, Clapham.

The reserve supreme champion was the champion female from Brian Breaks, whose Bonstone Beltex flock is based at Newlaithe Farm, Newton-in-Bowland, Clitheroe. The April, 2008-born, runner-up, out of a Bonstone dam, is by Airyholland Loadsamoney, standing with Scottish breeders Neale and Janet McQuistin, at High Airyolland, New Luce.

Loadsamoney is himself by the renowned sire Airyholland Kingsize, who has produced progeny to 5,000gns. The reserve champion, one of twins, made 600gns when acquired by William Warren, of Cleckheaton, who bought several sheep on the day.

Mr Breaks also sent out the first prize aged ram, Bonstone Lap Top, an April, 2007, son of Headlind Eskimo, out of Bonstone Flame, sold to well-known Scottish breeders David and Jane Cruikshank, of Broomisle, Castle Douglas, for 720gns.

The Skipton acquisition will be used for breeding purposes on the Cruikshanks' Drumrash Beltex flock, which was responsible for the gimmer shearling champion at this year's Ayr Show, as well as the first prize shearling ram and first prize group of three at the Scottish National Beltex Show.

The reserve male champion was a shearling ram from Thomas and Judith Hunter, of New Town Farm, Hunmanby, Filey, who sent out the top-priced shearling ram at last year's Skipton fixture.

Their 2009 male runner-up, Skelton Whin Maxwell Lad, is a true home-bred, being one of twins by Skelton Whin Huntsman, out of Skelton Whin Katie. He sold locally for 850gns to Andy Rigby, Slaidburn.

The reserve champion female, a six-month-old ewe lamb, was exhibited by Michael Davis. By Westerdale Leonardo, out of Northern Beltex Flash Dance, she joined another local buyer, David Shuttleworth, Gargrave, for 600gns.

Top price in show fell at 1,050gns fell to a shearling ram from David Findlay, who trades with his wife Diane at Birdridding Farm, Coverham, Leyburn. Northern Beltex Ma'am is a February, 2008-born, son of the Irish import Burnside Jethro, the stock tup used by David and his twin brother Richard, of Quarry Farm, Westerdale, Whitby. Acquired for 4,800 guineas as a shearling, the same sire was also responsible for Richard's 2008 Skipton Beltex shearling ewe champion.

The dam of the 2009 price-topper is Northern Beltex Gillian and the promising youngster joined Cheshire-based Peter Crossmore, of Crossgill Pedigree Livestock, Nantwich. Mr Crossmore was buying at Skipton for the first time and has a dual-purpose use for his new ram – breeding on his Beltex pedigree flock and at the bottom end of his 200-strong flock of pedigree Texel ewes. The top 100 ewes are covered by pedigree Texel rams.

For good measure, Burnside Jethro was also responsible for the second highest priced Beltex on the day, a shearling ram that already had five class wins under his belt from Thomas and Judith Hunter, sold for 880 gns.

A good number of sheep entered at the National Progeny Show reappeared at the follow-up fixture, open to all Beltex Society members. Sponsored by Windle Beech Winthrop, chartered surveyors & estate agents basec at Skipton Auction Mart, and Novartis Animal Health, the show attracted a 204-strong entry and achieved robust levels of trading, highlighting both the continuing popularity of the breed and Skipton as a recognised Beltex venue.

Results:
Aged ram – 1 BT Breaks, Newton-in-Bowland, 2 MR & JE Davis, Eldroth, 3 RG Findlay, Westerdale. Shearling ram – 1 and reserve male champion – T & J Hunter, Hunmaby, 2 B & F Staveley, Clapham, 3 T & J Hunter. Ram lamb – 1 and male and supreme champion – S Currie, Rathmell, 2 & 3 DS Bridge, Guisborough. Shearling ewe – 1 and female and reserve supreme champion – BT Breaks, 2 B & F Staveley, 3 MR & JE Davis. Ewe lamb – 1 and reserve female champion MR & JE Davis, 2 MR & JE Davis, 3 CM Jennings, Selside.

Other chief prices:
Shearling rams – B & F Staveley 860gns, S Currie 820gns, BT Breaks 800gns, RG Findlay 800gms, D Findlay 720gns and 700gns. Ram lambs - B & F Staveley 680gns and 360gns twice, WG Beckwith, Gargrave, 410gns, CM Jennings 400gns, MR & JE Davis 360gns. Shearling ewes – BT Breaks 750gns and 600gns, B & F Staveley 620gns and 540gns, MR & JE Davis 580gns. Ewe lambs - MR & JE Davis 360gns and 320gns.

Averages:
Aged rams to £756 (av £471 - £336 in 2008), shearling rams to £1,102.50 (£425.98 - (£420.08 2008), ram lambs to £714 (£365.88 - £320.46 2008), shearling ewes to £787.50 (£404.09 - £291.29 2008), ewe lambs to £630 (£339.50 - £204.75 2008).

Verity Mashams Double at Skipton


Caton Hat-Trick and Top Price Double at Skipton NEMSA Opener


Prime Time Successes at Skipton