Prime Time Successes at Skipton
2009-09-08
It was prime time again at Skipton Auction Mart for the September shows of beef cattle and lambs, with special classes for Masham and Lleyn prime lambs. (Mon, Sept 7)
David Bamforth with his Skipton September prime cattle champion,
joined by judge James Dewhurst.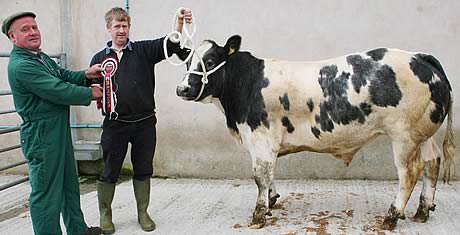 As usual, there was plenty of interest from the region's leading butchers seeking to source top quality locally reared meat on behalf of their customers.
As they did at the corresponding show last year, Keelham Hall Farm Shop, of Brighouse & Denholme Road, Thornton, Bradford, again snapped up the prime cattle champion, a 13-month-old British Blue bullock from local breeder L Bamforth & Sons, Hoyle Bottom Farm, Wainstalls, Halifax. The 550kg victor sold for £1,201 (216.5p per kilo).
David Bamforth also presented the reserve champion, a 495kg British Blue heifer, which became another Keelham Hall Farm Shop acquisition at £997 (201.5p per kilo). Both will be going on sale when the beef has been fully matured for 21 days.
The farm shop regularly sources the pick of the region's best beef and lamb on the hoof from Skipton Auction Mart, many champions and prizewinners among them. It has an established supplier partnership with Bamforths, one of many forged with Yorkshire farmers through local auction marts.
In fact, Keelham Hall Farm Shop is renowned for seeking out local produce at every opportunity and at the last count had over 100 suppliers from across the region, virtually half of them providing select meat products for the award-winning in-house butchers' department.
"We now regularly have over 7,000 customers a week and are confident our success can be put down to the fact that people really appreciate our policy to buy locally wherever and whenever possible, coupled with the keen prices we are able to offer because of our buying power," said Keelham Hall Farm Shop's Victoria Robertshaw.
On a day when 3,356 prime lambs passed through the ring, North Craven sheep farmer Richard Frankland, of Frankland Farms, New Hall Farm, Rathmell, won the overall championship for the second year in succession with a pen of five Beltex-x-Texel lambs, among them two youngsters which had won the prime lambs title at Kilnsey Show the previous week.
They topped the selling prices at £78 per head when acquired by Calderdale-based S & J Dorsey Butchers for their shop in Borough Market, Halifax, where the champions will go on sale from this weekend.
The overall reserve championship was awarded to the champion pen of Mashams from David and Roland Verity, of W&R Verity, Grange Farm, Bouthwaite, Ramsgill – the third year in succession they have lifted the title in the show, staged on behalf of Masham Sheep Breeders Association.
The victors sold for £60 each to judge James Dewhurst, buying on behalf of Stanforths Butchers, Skipton, who will be selling the lambs at their Mill Bridge shop from this weekend.
There was a second North Craven success in the Lleyns show, when the first prize was awarded to a five-strong pen from John Dugdale, of H & M Dugdale, Borrins Farm, Stackhouse, Settle, his charges selling for £62 a head to Roy Schofield, Todmorden.
The event was staged in conjunction with the Lleyn Sheep Society, ahead of its major show of pedigree breeding and non-pedigree sheep at Skipton, on Thursday, October 1, which has attracted a near 1,000-strong entry.

Dennis Becomes Top Dog on Debut at Skipton


Wilson Mule Wethers are Skipton Store Lamb Champions


Skipton Rare and Native Breeds Show is a Real Crowd-Pleaser