Caton Hat-Trick and Top Price Double at Skipton NEMSA Opener
2009-09-09
Ashley Caton, of Otterburn Lodge Farm, Otterburn, landed a notable hat-trick when exhibiting the champion pen of ten lambs for the third year in succession at the season's major opening ewe lamb show and sale of Mule gimmers from members of the North of England Mule Sheep Association (NEMSA) at Skipton Auction Mart. (Tues, Sept 8)
The Caton family are pictured on the left of the group with their champion and top price pen of ten Mule gimmer lambs, joined by judges Val Brown and John Gate,
and sponsor Chris Pearson, right.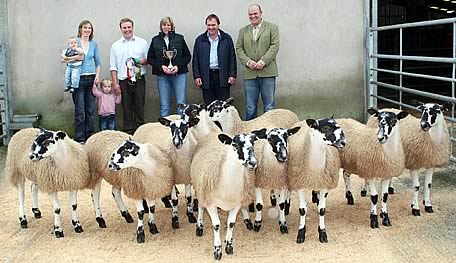 In what is the milestone 25th year since the Skipton branch of NEMSA first started holding its twice-yearly high profile annual gimmer lamb fixtures at Skipton, Mr Caton, retained both the Chester Kneller Memorial Trophy and Ciba Geigy Perpetual Trophy.
He then saw his charges sell to Martin and Val Brown, Bedale, for the day's top price of £230 per head, compared to last year's £170.
Mr Caton, immediate past chairman of the Skipton branch, continued his run of success when his third placed pen of 20 Mule gimmers headed the class selling prices when acquired for £135 each by Chris Ryder, Blubberhouses – top price last year was £95.
Runner-up in the 10s class was Ken Throup, of KM & L Throup, Woofa Bank Farm, Silsden, sold for £140 per head to Messrs Harvey, of Norfolk. Third was Skipton NEMSA branch chairman Jeff Throup, of Snowhill Farm, Silsden Moor, sold for £120 apiece to Cecil Hutchinson, Kirkby Wiske, Northallerton.
Embsay-based John Mason's fourth prize pen made £215 each to B & M Watkinson, Sessay, Thirsk, with the fifth placed pen from Ellis Bros, Addingham Moorside, making £130 per head to Peter Fawcett, Long Preston, who also bought the sixth prize pen from J C Walker & Son, Dunsop Bridge, at £110 each.
Back in the 20s class, Ellis Bros, of Cragg House Farm, stepped up on their third in class last year to win the 2009 championship and with it the second Ciba Geigy Perpetual Trophy. Their pen was knocked down for £114 per head to Keith Downs, Bingley.
WA & A Booth, Old Hall Cottage, Feizor, Austwick, were runners-up, their charges selling at £118 each to Anthony Hewetson, Bank Newton.
The 6,162 lambs forward sold at an overall average price of £71.80 per head, £18.34 higher than the £53.46 a head achieved at the corresponding fixture in 2008.
The show was again sponsored by Chris Pearson, of Pearson Farm Supplies, West Marton. Judges in the 10s were Val Brown, Bedale, and John Gate, Nantwich, and in the 20s David Dick, Northallerton, and David Beresford, Wigglesworth.
Jeff Throup said: "Considering the weather conditions we have experienced, the lambs came to market in peak condition, which is a real credit to all NEMSA members who exhibited."
Last month, the Skipton branch staged a special Silver Jubilee show of Blue Faced Leicester rams and their Mule progeny at Skipton, which incorporated a competition to predict the sale average at the September NEMSA opener. The winner was David Robson, of Hutton Sessay, Thirsk.
NEMSA members are now looking forward to their second annual Mule gimmer lambs show at Skipton on Tuesday, September 22, with trophies again available for the champion pens of 10s and 20s.

Prime Time Successes at Skipton


Dennis Becomes Top Dog on Debut at Skipton


Wilson Mule Wethers are Skipton Store Lamb Champions