Dennis Becomes Top Dog on Debut at Skipton
2009-09-08
Since ceasing milk production three years ago, Dennis Purdham, who now farms beef and sheep in the Cumbrian coastal village of Holmrook, Seascale, has enjoyed buying in a few sheep dogs as pups, breaking them in, bringing them on – and selling them from his Gubbergill Farm home.
Dennis Purdham is pictured with Jim ahead of the Skipton working sheep dogs sale.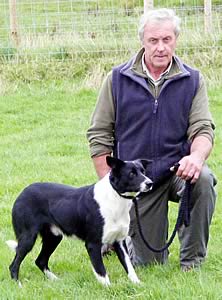 But, when Mr Purdham realised he had a dog that was that little bit extra special, he decided to try his hand selling at an official working sheep dog sale for the first time ever – and chose one of the country's top venues, Skipton Auction Mart in North Yorkshire.
The decision paid handsome dividends at the mart's early Autumn dogs sale, on Friday (Sept 4), when Mr Purdham marked his first run at Skipton by topping the selling prices at 3,700 guineas (£3,885) with his two-and-a-half-year-old smooth-coated black and white dog Jim. The buyer requested anonymity.
Jim, an excellent nursery prospect, who had attracted high levels of pre-sale interest, was bred by Mr Purdham's near neighbour Malcolm Cottam – his farm is just a mile away in Holmrook – being by Dec, out of Tan.
Jim is a full brother to Jimmy, a black and white dog who sold for 2,350gns as a 13-month-old at Skipton's May sale this year when presented by regular vendor Shaun Richards, of Hapton, Burnley.
Mr Purdham last year won the North Westmoreland new handlers event on his first and only foray to date into the trials arena with Meg, a daughter of Floss, sold in 2004 at Skipton as a two-year-old by Tom Lawrenson, of Brindle, Chorley, for 4,100 guineas (£4,305). This remains a world record price at an official working sheep dog sale.
Mr Purdham said: "I have been coming to dog sales at Skipton with friends since I came out of milking and really enjoy them. I had quite a lot of enquiries about Jim at home, but thought he was something special, so decided to enter him for Skipton. I'm glad I did. It is a very good centre, attracting people from a wide area and there was a real buzz around the place when I took to the field."
The Irish were well represented at the fixture, with top call among their entries falling to Billy Ryan, of Keenogue, Juilianstown, County Meath. His 16-month-old registered black and white dog Paddy sold for 2,550 guineas to a buyer from Scotland.
Gus Dermody, of Nantwich, Cheshire, had a number of entries and rounded off a successful sale towards the end of the day when he attracted a bid of 2,150 guineas from another Scottish purchaser for his 12-month-old tri-coloured dog Kyle, by Kit, bred by Robin Dean, of Chipping, Preston.
With the nights drawing in, trade was, understandably, more cautious than previous sales, though demand for young dogs and veteran dogs ready for immediate work was very strong.
A total of eight dogs sold to 2,000 guineas and more. Roger Jewitt, of Naburn, York, saw his April, 2006, black and white bitch Fern make 2,100gns when acquired by a southern buyer, who plans to breed from her.
Mr Jewitt purchased Fern at the May, 2008, Skipton dogs sale from noted breeder John Bell, of Howden, Selby, who holds the record for the highest number of top-priced dogs at Skipton. She has since won five nursery trials and was the top scoring dog in the 2008/09 Northern Sheep Dog Society winter trials season.
Welsh handler Peter Blain, of Bala, was among the leading prices with two of his entries. Jan, a three-year-old black and white bitch, made 2,050gns, while his nine-month-old black and white dog Cap, out of Mr Blain's own May, sold for 2,000gns.
"I was really pleased with the trade, in particular the selling price of the younger dog, as I bred him myself," said Mr Blain.
Shaun Richards again figured among the top prices when his 15-month-old black and white bitch Bell was knocked down for 2,050gns. She is a product of Todmorden-based Robert Fielding's Jim and Bella, the latter yet another noteworthy Skipton acquisition.
Another Welsh vendor, John Davies, of Lampeter, Ceredigion, saw his April, 2008, tri-coloured dog Cammen Nip achieve a selling price of 2,000gns.
With 68 dogs forward, broken registered entries sold to 3,700gns (av £1,654), part-broken dogs to 950gns (£628) and unbroken dogs to 450gns.
The 2009 working dogs season at Skipton concludes with the main Autumn sale on Friday, October 30. Entries close on October 16.

Wilson Mule Wethers are Skipton Store Lamb Champions


Skipton Rare and Native Breeds Show is a Real Crowd-Pleaser


Trade Much Improved at Skipton Gimmer Shearlings Highlight