Skipton Rare and Native Breeds Show is a Real Crowd-Pleaser
2009-09-02
Bumper Bank Holiday weekend crowds packed into Craven Cattle Marts' Skipton Auction Mart (Saturday 29th August) for the North Yorkshire venue's 2009 Rare & Native Stockbreeders Auctions.
ASponsored by Gray's of Shenstone – the UK's largest retailer of Border Fine Arts models - and also by farm animal homeopathic medicines suppliers, Crossgates Bioenergetics Ltd of Settle, this annual show and sale of rare, minority and traditional breeds attracts dedicated breeders, buyers, enthusiasts and family visitors in their thousands.
This year's event was no exception and incorporated the 118th Show and Sale for the Wensleydale Longwool Sheep Breeders' Association, the Northern Jacob Sheep Breeders' 34th Annual Show and Sale and Craven Feather Auctions' Show and Sale.
Living up to its billing as a leading 'something-for-everyone' show, the day included Skipton's regular Agri-Trader Auction of agricultural machinery, tractors, 4x4s and farm implements, plus antiques, reclamation and salvage auctions, as well as a sale of Border Fine Arts and Beswick figures.
Wensleydale Longwool Sheep Breeders' Association - 118th Show and Sale
Wensleydale Supreme Champion with (left to right) breeders Shelagh and John Prescott, judge Dr Lynn Clouder and Jim Thompson, Chairman of the Wensleydale Longwool Sheep Breeders Association.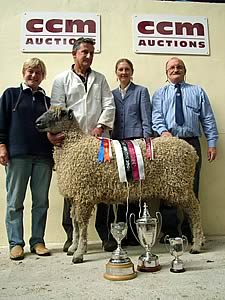 Veterinary surgeon John Prescott and his wife Shelagh, from Longhorsley, near Morpeth, Northumberland, who started breeding Wensleydales in 1984, sent out the Supreme Champion – a shearling ram whose sire was Great Yorkshire Show Champion in 2007.

In taking the 2009 title, the winning breeders won four of the Association's trophies: the Burton Silver Teapot for Best Shearling or Aged Ram; the John Percival Perpetual Challenge Cup for the Best Shearling Ram Bred by the Exhibitor; the Smalley Perpetual Challenge Cup for the Best Ram and the Fawell Perpetual Challenge Cup for the Champion Sheep.

The Champion was bought for 280 guineas by C. A. Coe & Son of Great Wenham, Suffolk. Average shearling ram prices were £136.18.

Reserve Champion was a shearling ewe bred by J. A. and F. Elliott of Ferrensby, Knaresborough. The Elliott family repeated their 2008 success when they also bred the Reserve at the Association's annual show and sale. The 2009 Reserve Champion was sold for 240g and the average price for shearling ewes was £100.97.

The top Wensleydale price achieved was 260 guineas for a ewe lamb from Nick Oliver, of Carperby, Leyburn, North Yorkshire, bought by G. & K. Hampstead of Boston, Lincolnshire.

Northern Jacob Sheep Breeders' 34th Annual Show and Sale

Gavin Haworth (left) from Skipton with his Champion Jacob shearling ram and (right) judge Robert Locker.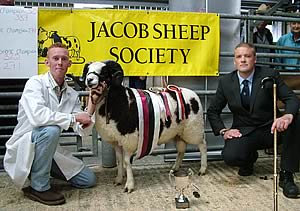 With a strong entry of 112 Jacobs in six classes, it was a very much a local success story for Skipton 'hobbyist' sheep breeders Gavin Haworth and Rebecca Green when the judge, Robert Locker from Berwickshire, named their shearling ram, Hurrsdale Davey Jones, as Supreme Champion.
Gavin, a buyer with Skipton tools and DIY store, JACS, only started breeding Jacob sheep six years ago. He keeps his Hurrsdale flock on land belonging to T. N. Cook Ltd at Close House Farm, Otley Road, Skipton.
The Champion, whose sire won the Royal Highland Show in 2002, was sold for 300 guineas to Richard Saxby of Coniston Cold, near Gargrave. Average shearling ram prices were £166.60.
Reserve Champion was a shearling ewe from G. Connor and S. Dalrymple of Bridgend, South Wales, also sold for 300 guineas to G. Wood of Scales, Cumbria. Average shearling ewe prices were £144.55.
The top sheep sale price of the day was an impressive 510 guineas for a Jacob ram lamb exhibited by the 2008 winning breeder, Jean Price of Churchstoke, Powys, which was bought by I. Fleming of Ulverston, Cumbria. This successful breeder sold 12 Jacobs at an average of £239.31.
Rare & Native Breed Sheep Show and Sale
Stephen Hipps (left) shows the winning Ryeland ram – Supreme Rare & Native Breed Sheep Champion – with (left to right) show sponsor Nick Gray, and judges Alan Wood and Graham Hampstead.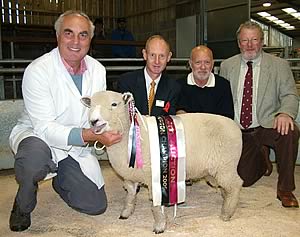 There was a 200-strong UK-wide entry for the show, with north-based breeders especially well-represented including Middlesbrough Council's Newham Grange Leisure Farm – a popular visitor attraction in the north east. Traditional breeds on show included Whitefaced Woodlands, Manx Loaghtans, Soays, Shetlands, Hebrideans, Greyface Dartmoors, Welsh Badger Faces and Herdwicks.
There were Hill & Heath, Primitive, Longwool, Ryeland and Unregistered classes, with the eventual Supreme Championship being won by a Ryeland ram named Hardgate Leo sent out by Stephen Hipps from Bishop Thornton, near Harrogate. The Champion sold for 160 guineas to J. A. Barnes of Scarisbrick, Lancashire.
Stephen Hipps is continuing the work of his late wife Margaret, who was a well-known breeder of the ancient, docile and increasingly popular Ryeland. Admirers of the breed include HRH The Prince of Wales. The Champion's dam was Supreme Wool on the Hoof Champion at the Great Yorkshire Show in 2008.
Reserve Champion was a Leicester Longwool shearling tup from Anne Goodman of Hovingham, near York, which was unsold.
Skipton Native Stock Breeders Auctions – Cattle and Pigs Sections
Anne Goodman (right) with the Reserve Champion Leicester Longwool and (left to right) judges Graham Hampstead and Alan Wood and event sponsor Nick Gray.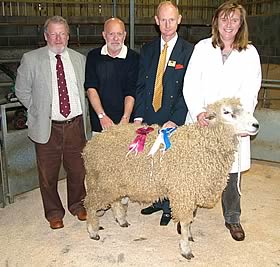 The sale-only of cows and heifers saw prices of 930 guineas for a Beef Shorthorn cow and her bull calf, from Mrs G. C. Barker of Ripon, sold to David Robinson of Bradfield, Sheffield. Andrew Fisher, from Pateley Bridge sold a pair of British White heifers at 610 guineas each to Colin Winterburn of Red Lion Farm, Beamsley, near Skipton.
Richard Saxby of Coniston Cold, Gargrave, sold a Longhorn cow and her calf for 860 guineas to N. A. Winne of Burneside, near Kendal, Cumbria.
Father and daughter Andrew and Heather Ivinson, from Penrith, Cumbria, made it a family 'one-two' by sending out the Champion and Reserve Champion pigs.
Andrew's two-year-old Berkshire boar, Kiplin Ambassador, was placed first and subsequently sold to J. Langhorne of Carperdy, Leyburn, for 160 guineas. The Reserve, a Berkshire sow, was sent out by Heather, aged 13, and sold with a litter of 8 piglets to W. Taylor and Son, of Preston, for 270 guineas.
Gilts sold to 145 guineas, with average prices of £119.00, while the average price for sows was £117.60.
Craven Feather Auctions Show and Sale
William Robinson (centre) with (left) feather auction judge Geoff Marston and sponsor Nick Gray – all holding the Champion trio of Silver Pencilled Wyandottes.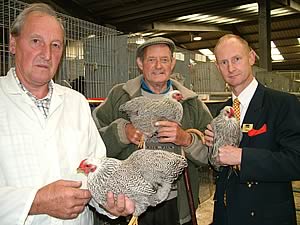 A large entry of 350 lots, comprising both poultry and fowl, was judged by highly-experienced breeder and show judge Geoff Marston, of Wetherby.
He named three Silver Pencilled Wyandotte pullets from William Robinson of Preston as Supreme Champions. The trio later sold for £100 to Trevor Addison of Romaldkirk, near Barnard Castle, County Durham.
Reserve Champions were a pair of White Call Ducks from Andrea Whittaker from Whalley, near Clitheroe, Lancashire, who went one better than her third-place success last year. The 2009 Reserve Champions sold for £50 to L. Jackson of Penrith, Cumbria.

Trade Much Improved at Skipton Gimmer Shearlings Highlight


Booths Shine at NEMSA Silver Jubilee BFL and Progeny Show 2009


Success Story at Skipton Beltex Highlight