Farm Machinery Sales Back in Fashion
2009-09-02
Today, rural specialists, George F. White have announced details of their first second hand machinery sale at the Aycliffe Sales Centre near Darlington. This is being held on Saturday 12th September at 11.00am.
Tom Oates, Auctioneer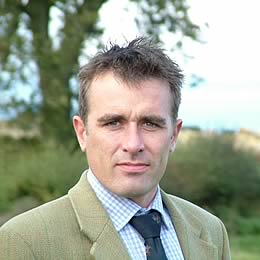 Thereafter they intend to hold these collection sales on a quarterly basis at this site at Aycliffe Quarry close to the A1. By holding these machinery sales on a regular basis, Tom Oates the company's resident Auctioneer aims to provide a platform for farmers to both sell their surplus items and to secure good second hand farm machinery.
Second hand Farm Machinery and Dead stock sales have always been popular and in the past on site farm sales used to take place every weekend. This is no longer the case, and there is now a shortage of both sales and stock. George F. White have recognised that there is a demand for these auctions, especially in the current economic climate. By instigating their revival they are leading the way in providing an outlet for farmers and rural businesses to trade their machinery.
Tom Oates explains why second hand machinery is growing in popularity: "There is a lack of machinery sales this year due to fewer farms changing hands and there are more and more people who would rather invest in good quality pre-owned machinery as opposed to buying new. For this first sale we have some fantastic entries and we are updating the web site with these on a daily basis."
Buyers stand to make considerable savings by buying items at auction rather than brand new and this first sale has already created a great deal of interest. Key items entered in the auction to date include several tipper lorries, a good range of tractors, and some very good arable equipment such as a Case 1000 MS sprayer, Vaderstaad ten folding meter roller, and a Major 800 topper. Full details of all the items for sale are listed on www.georgefwhite.co.uk.
George F. White have specifically chosen The Aycliffe Sales Centre to hold these regular auctions as it is located just off the A1 and is easily accessible to farmers travelling from both the North East and Yorkshire. The sale will be held on Saturday 12th September at the Aycliffe Sales Centre, The Aycliffe Quarry, Aycliffe, and Darlington.
Anyone interested in entering items for auction or attending the sale should contact Tom Oates at the Alnwick office of George F. White on Tel. 01665 603 231.
COLLECTIVE SALE OF AGRICULTURAL VEHICLES
EQUIPMENT AND PLANT
AT
AYCLIFFE SALES CENTRE, AYCLIFFE, DARLINGTON
SATURDAY 12TH SEPTEMBER AT 11.00 A.M
ENTRIES TO DATE
VEHICLES: DAF 8 wheeled tipper, insulated body "54" plate; DAF CF 85-360 8x4 tipper "57" plate; Scania 6x4 Aluminium body tipper "05" plate; Leyland DAF lorry c/w cattle/horsebox.
TRACTORS: Case Maxum 135; Case MX135 (1996, 4200 hrs); Case MX110 "V" Reg; Case 856XL, Int 475 (1976); MF tractaire; DB 1210 4wd c/w loader.
PLANT: JCB 3CX (1996, Full Spec); Ex Tec MF 4wd dumper (6 Ton); Benford 5 ton dumper; JCB 537-135 Teleporter (2002); Sanderson 624 teleporter; Kramer 312 LEX loader (1994).
EQUIPMENT: Case 1000 MS sprayer (24m); Vaderstad 10m folding rollers; Major 800 topper (as new); WC Lincoln 600 sweep (as new); Kev KD 832 silage/straw shredder; Haybob; Welger RP 520 baler; JD 550 round baler; KRM twin disc fert spreader; Farmforce 1.5m front press; MF heavy duty discs; Kev. stone rake; Towed water bowsers; Richardson horse trailer; Krone mower; Parmiter post knocker; Twoose mounted hedge cutter; 2 leg sub-soiler; Flat 8 grab; Bale sledge and carriers; Bale spike; Compressor link box; 3 ton tipping trailer; Rear Loader; Cultivator; Kuhn disc mower; Vermeer 5" Wood chipper; Sprearhead Destroyer heavy duty topper (little used); Shipping containers; 2 x 30 Portacabins (can deliver); Ingersol P150 compressors x 2; KV stone elevator (1996); Parmiter post knocker; Cooks and Browns bale sledges; Navan 10t dump trailer.
George F. White has offices in Alnwick and Tyne Valley in Northumberland, Wolsingham and Barnard Castle in County Durham, Bedale in North Yorkshire and Park Lane in London www.georgefwhite.co.uk.

Deere & Company Plan Additional Investment in Russia


John Deere Adds Two New W Series Combines


New Mid-Specification Combines from John Deere