Deere & Company Plan Additional Investment in Russia
2009-09-02
The Deere & Company Board of Directors has approved an investment plan to establish a manufacturing and parts centre in Russia. The project will be located near Moscow, in close proximity to the Domodedovo International Airport.
John Deere 9030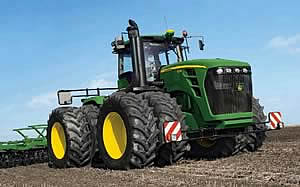 The new site will have the capability to manufacture a broad range of John Deere products, including tractors and harvesting equipment, as well as construction and forestry products. At the same time, Deere will consolidate several depots into one site to improve parts and after-sales service to customers.

"Russia will be a major contributor to meeting the world's future needs for food and forestry products," said Samuel R Allen, president and chief executive officer. "John Deere's products and solutions can greatly improve agricultural and forestry productivity through the use of advanced technology. Therefore, our investment in this new facility helps Deere prepare to significantly contribute to the Russian government's vision for expanding exports from Russia in these important sectors."

Allen said today's announcement is the first step to achieve the vision for Russia that Deere announced in July 2009 at the US-Russia Business Summit and indicated the company's intention to significantly expand its presence in the country, which Deere views as an important growth market for agriculture, forestry and construction equipment.

The project announced today complements Deere's planned investment in a national operations and training center in the Kaluga region and its existing seeding equipment manufacturing facility in Orenburg.

"Our strategic investments reflect Deere's confidence in the potential of the Russian market, the strength of our dedicated dealers and employees, and the support of the Russian national and local authorities, particularly in the Kaluga, Orenburg and Moscow Oblasts," said Mark von Pentz, president in John Deere's Agriculture and Turf Division.

As government policies and market conditions allow, Deere intends to expand the company's presence in Russia in its current facilities and in other locations around the country, von Pentz said.

John Deere has been doing business in Russia for more than 100 years and recently has invested to expand operations, employment and sales in the Russian Federation. Today, Deere's dealer partners span the major agricultural and forestry regions. In total, Deere has a network of more than 70 sales locations across the country, with employment in Russia at Deere and its independent dealerships approaching 2000 people.

Deere opened a forestry sales branch in Saint Petersburg in 2002; an agricultural sales branch in Moscow in 2003; a manufacturing facility for seeding equipment in Orenburg in 2005; and added construction equipment sales to the Moscow branch operations in 2009. The company has also announced its intention to develop an operations and training center in Kaluga.

John Deere Adds Two New W Series Combines


New Mid-Specification Combines from John Deere


New Wider Cutterbar to Boost Claas Lexion 600 Performance