John Deere Adds Two New W Series Combines
2009-08-17
John Deere has added two new combines to its W Series range. The five-walker W550 and six-walker W660 models offer the same basic specification as the existing machines, but with increased horsepower to provide customers with a wider choice of combines utilising the company's walker tine separation technology.
John Deere W550i HillMaster combine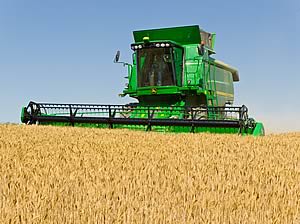 Both new models feature the same 6.8 or 9 litre John Deere PowerTech Plus six-cylinder turbocharged engine, with a fuel tank capacity of 800 litres. Both are also available with the optional HillMaster II levelling system, which in combination with the standard SlopeMaster system offers full harvesting performance on slopes up to 22 per cent.
The i Series versions are equipped as standard with HarvestSmart automatic feedrate control, AutoTrac assisted steering and Harvest Doc software. These versions offer an additional capacity of 23 per cent compared with their non-i equivalents. John Deere's new ProDrive automatic transmission is also optionally available on the W660 model. This fully integrates with the HarvestSmart system, to allow the operator to achieve maximum performance from the combine both in the field and on the road, especially on hilly ground or in difficult harvest conditions.
The W Series threshing system brings together the high capacity performance of tine separation and the high levels of straw quality expected from a cylinder, straw walker machine. This is designed to handle a wide range of different crops and field conditions more simply, while achieving the best possible grain and straw quality.
The four stage threshing system begins with the large 660mm diameter cylinder and longer 750mm concave. A rear beater and second concave provides additional threshing, and propels the crop to the long 11-step straw walkers. Towards the end of this stage, further separation is provided by the tined Power Separator, which constantly yet gently combs the straw mat to release trapped grain, much like the tines on John Deere's rotary C and S Series combines.
Key advantages of this system are that the full crop flow area is used for threshing and separation, so maximising combining performance; it is easy to change from crop to crop; and there is a low specific power requirement, which means lower fuel consumption.
On the 600R Series cutting platforms, the HeaderTrak lateral tilt system can be programmed to automatically maintain preset stubble height and header ground pressure for different crops and conditions. Further standard features include the advanced Quadra-Flo cleaning system, automatic combine adjustment (ACA) from the cab, and numerous service and working lights.
The W Series now lines up for 2010 as follows:
Model
Power rating (maximum hp)
Recommended platforms (m/ft)
Grain tank capacity (litres)
W540C
255
5.5 - 6.7/18 - 22
8000
W540 & W540

i

255
5.5 - 6.7/18 - 22
8000
W550 & W550

i

(NEW)

290
5.5 - 6.7/18 - 22
8000(10,000 optional)
W650 & W650

i

318
5.5 - 6.7/18 - 22
9000
W660 & W660

i

(NEW)

350
6.7 - 7.6/22 - 25
9000(11,000 optional)

New Mid-Specification Combines from John Deere


New Wider Cutterbar to Boost Claas Lexion 600 Performance


New Claas Avero Combine for Smaller Growers