New Mid-Specification Combines from John Deere
2009-08-17
More quality and comfort are offered by the newly styled 1470 and 1570 combines from John Deere, which replace the existing 1450 and 1550 models and can be ordered now for the 2010 season.
John Deere 1570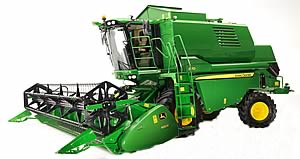 A number of specification improvements have been made to provide easier serviceability, as well as increased reliability and durability. The feeder house has been completely redesigned to provide even smoother material flow from the cutting platform, while a new hydraulic system delivers faster response times as well as more powerful platform lift and reel speed.
In addition, changes have been made to the steering, electrical, shoe drive and straw chopper drive systems to improve the operator environment and provide increased functionality. New lights also give better light distribution and visibility for night-time harvesting.
The 204hp five-walker 1470 and the 262hp six-walker 1570 combines feature the conventional threshing cylinder and straw walker design of previous machines, with its proven ability to produce high grain and straw quality in a wide range of crops and conditions. Grain tank capacity is up to 6800 litres on both models.
Both hydrostatic drive models offer a choice of 600R Series cutting platforms from 4.3m to 7.6m. The extra long, heavy duty feeder house positions the platform well out in front of the combine, so the driver can comfortably see both the platform and stubble height without leaning forward.
The optional HeaderTrak system provides automatic control of platform height and lateral tilt when working on slopes or uneven ground, at night or in laid crops. There is also a powerful hydraulic reverser to dislodge blockages, and a single lever multi-coupler for latching the electrics, hydraulics and header enables the platform to be connected quickly and easily in one simple operation.
The cab features excellent all round visibility, a standard spring suspension or optional air suspension seat, a master control lever and cornerpost display monitors, and a standard high capacity air conditioning system. The dual display InfoTrak monitors enable the driver to customise the display to show any two functions at once, for a clearer picture of the combine's performance.
High volume threshing is provided by the high inertia 610mm diameter cylinder, coupled with a long concave, which is designed to handle all crops without being changed and features electric concave adjustment as standard. Cylinder speed can be optionally reduced to as low as 150rpm to maximise grain separation, and there is a large cleaning area. Grain losses are reduced on sloping land with the standard SlopeMaster cleaning shoe.
A new feature on the optional straw chopper is the auto on/off feature; the chopper is switched on and off by simply moving the straw hood from the windrowing to the chopping position. The optional chaff spreader is also now adjustable from the cab. These features make operation of the new John Deere 1470 and 1570 combines safer and more convenient.

New Wider Cutterbar to Boost Claas Lexion 600 Performance


New Claas Avero Combine for Smaller Growers


New High Output Class Rollant Balers