The Renaissance in the Farmland Market Continues
2009-07-07
After a poor start due to the hideous weather conditions last autumn, there are now some very respectable looking crops of winter wheat, oilseed rape and spring barley – the livestock sector too is generally buoyant with a recovery in meat prices assisted by a moderation in input costs.
Nigel Foster, a senior partner in chartered surveyors George F White at Bedale in North Yorkshire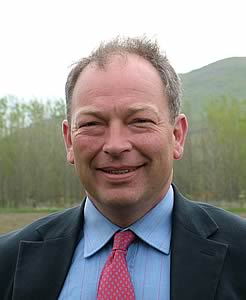 Set against the turmoil in the world markets in most other commodities, the sun – finally – seems to be shining on the agricultural industry. In turn, this is reflected in a very solid market for agricultural land, particularly in the North East reports Nigel Foster, a senior partner in chartered surveyors George F White at Bedale in North Yorkshire.
Farmers have returned in strength to the market as buyers (how different to two years ago when they were nowhere to be seen!) and farmland continues to be attractive to investors and non-farming buyers as a tax haven and a safe place to park their money.
George F White have already completed a string of successful sales of farms and land so far this year, two of them by auction. Chapel House Farm near Hawes in the Yorkshire Dales National Park set the scene when sold by public auction on 19 May, making 22% over its guide price with all of the land being bought by farmer buyers – see photograph ." A good hill livestock farm, the low lying meadow and pastures sold for over £5,000 per acre and even the less productive high allotments broke the barrier of £700 per acre showing the strength and resilience of the livestock sector" says Nigel Foster. Hot on the heels of the sale of Chapel House Farm, the firm then sold 33 acres of land near Askrigg, Leyburn (also in the National Park) a week later for over £5,000 per acre, a staggering 49% over its guide price. Shortly afterwards, an attractive but relatively unproductive parcel of rough pasture near Richmond sold by private treaty for over £3,000 per acre being a colossal 150% over its guide price!
So, what does the rest of the summer hold for the farmland market after such a promising start? Nigel Foster predicts "more of the same". He is about to close negotiations on the sale of Manor Farm near Bedale – a 335 acre block of good arable land with buildings and a fishing lake but no house – which is expected to sell for more than its guide price of £2 million. This will be a good barometer of the state of the market for arable land and will also indicate how the market is likely to react to another block of land that George F White have recently launched at Wroot near Doncaster in South Yorkshire (164 acres of some of the best and most fertile grade 2 land in the area, suitable for a wide range of crops including potatoes and vegetables which is guided at a very modest £4,500 per acre and, interestingly, next door to one of the few nesting sites for great cranes in the UK – what a tremendous marketing opportunity!).
Whilst fully equipped farms (i.e. including a house) continue to sell reasonably well, what the market is crying out for is large blocks of bare land which is being snapped up quickly at very respectable prices – a trend that Nigel Foster expects to continue throughout 2009. Already, the sales teams at George F White throughout the North East (from the Humber to the Tweed) are looking at farms and land which their clients are considering bringing onto the market this autumn to capitalise on the current strong market.
George F. White has offices in Alnwick and Tyne Valley in Northumberland, Wolsingham in County Durham, Bedale in North Yorkshire and Mayfair in London.

Rare Breeds Farm for Sale


Thame Farmers Appoint Fisher German as Land Agents


A Farmer's Life for Me - Northumberland Farm Tenancies