Rare Breeds Farm for Sale
2009-07-03
This week, George F. White announced details of one of their most unusual property sales ever - a pedigree farm with a free starter pack of rare breeds which includes, one Berkshire Pig, one Dexter Cow and one Shropshire Sheep.
Herding Hill Farm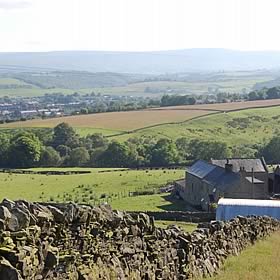 This is the sale of Herding Hill Farm near Hadrian's Wall in Northumberland, incorporating one of the region's foremost farm shops, its working 55 acre farm and traditional farmhouse. The Dexter Cows, Berkshire Pigs and Shropshire Sheep, all thrive in the local terrain and further livestock is available to purchase by separate negotiation.
"Herding Hill Farm is being sold as a going concern and is set up to appeal to both residents and visitors to the area, the new purchaser can quite literally, move in, set up shop and enjoy the good life," says Tom Oates a Partner at George F. White.
As the farm is situated less than one mile from Hadrian's Wall, this is a commercial enterprise which benefits from the thriving international tourist trade this World Heritage Site attracts. The present owners are renowned for producing exceptionally high quality meat from their rare breeds, all of which were specifically chosen for the taste of their meat.
Very few farmers go to the trouble of having a 100% pedigree flock, however for Herding Hill it is their mark of quality which has resulted in a loyal customer base.
Commenting further Tom said: "Sales of this nature which offer both a home and a thriving business are extremely rare. The farm has considerable scope to expand its visitor facilities by adding on a visitor centre or caravan park and allowing the new owners to benefit from the increasing trend to holiday in the UK. Given that this is the perfect opportunity to start a new life, we are expecting a great deal of interest."
Currently on the market for offers in the region of £650,000 the sales includes:
Herding Hill Farm Shop and café, currently selling a range of local produce as well as its own meats, chutneys and pickles.
Over 50 acres of land – this includes 11 separate enclosures from productive hay and meadow fields to mature woodland.
The traditional four bedroom stone built farmhouse with planning consent for further extension.
A range of traditional and modern outbuildings.
For the ambitious rural entrepreneur there is plenty of development potential:
Currently the farm's rare breeds produce superior quality meat and, as they are butchered on the farm, complete traceability. Together with its own label preserves, there is scope to expand this side of the business locally or across the UK.
There is also opportunity to extend the business further by creating a caravan park, a visitor centre with farm trails or both, allowing the business to benefit from the increasing number of foreign and domestic tourists visiting Northumberland each year.
Currently Herding Hill is not part of any stewardship schemes and so could potentially be registered into an ELS Entry Level Stewardship Scheme.
Viewings are strictly by appointment and anyone interested in arranging to see the property should contact the Alnwick office of George F. White on Tel. 01665 603231.

Thame Farmers Appoint Fisher German as Land Agents


A Farmer's Life for Me - Northumberland Farm Tenancies


Cumbrian Stockrearing Farm Goes Under the Hammer for £1.3m