The Glendale Agricultural Society Farming Award
2009-07-26
This week, the Glendale Agricultural Society (GAS) has announced details of a new award scheme for those working in the farming industry - The Glendale Agricultural Society Farming Award.
Vice President of The Glendale Agricultural Society, Michael Walton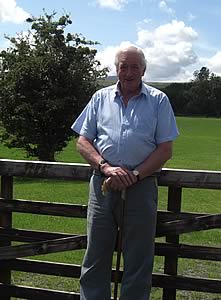 The awards will be given to farm workers for service in full time employment with either one employer on the same or different holdings, or on one holding with different employers. Farmers are asked to nominate employees who have given 25 years or more of loyalty and service to farming in Glendale. Nominations can be made until 14th August and the winners will be announced and presented with their certificates at the annual Glendale Show on August 31st.
Glendale, an area stretching from Powburn and Eglingham in the South up to Lowick and Cornhill in the North is renowned for its tremendous livestock and arable farms. Without the support from the people working on these farms many would not be what they are today. The Glendale Agricultural Society wants to award those who have shown long term commitment.
Vice President of The Glendale Agricultural Society Michael Walton, who has farmed in Glendale all his life, tells us why they feel these awards are so important, "Farming is such an important industry in Glendale and we feel that the people who have worked on its land and farms should be recognised. We are extremely proud to be able to highlight the hard work, effort and loyalty which these people have given to agriculture over the years."
All nominations from employers must be made in writing or via email to The Secretary of the Glendale Agricultural Society by August 14th. Address – The Glendale Agricultural Society, The Cheviot Centre, Wooler, Northumberland, NE71 6BL. info@glendaleshow.com. Anyone requiring further details should contact the Show Secretary on Tel. 01668 283868.

Nick Brown MP to Visit Field of Opportunity


UK's Biggest Mixer Wagon Demonstration


Top Chefs Lined up for Kilnsey Show