Top Chefs Lined up for Kilnsey Show
2009-07-20
Four of Yorkshire's top chefs - Nigel Haworth, Stephanie Moon, Bruce Elsworth and Craig Allan - are on the menu at Kilnsey Show this year.
Kilnsey Show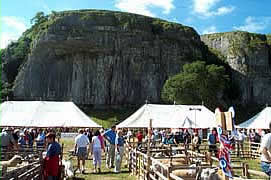 They will stage master classes in the cookery theatre that forms part of the children's education area in the REAL Food and Farming village at the biggest one-day agricultural show in the country, on Tuesday, September 1.

Michelin-starred chef Nigel Haworth is co-owner of Ribble Valley Inns, which has just acquired the Bull Inn at Broughton, near Skipton. He won the main course dish on BBC2's "The Great British Menu" with his Lancashire Hotpot.

Nigel is also appearing on BBC1's new "Saturday Kitchen" series - it begins a new run ahead of the show on August 22 and is hosted by another Yorkshire celebrity chef James Martin.

He will be joined at Kilnsey by Stephanie Moon, head chef at Rudding Park Country House Hotel, Harrogate, Bruce Elsworth, executive chef director at the Angel Inn, Hetton, and Craig Allan, sous chef at Coniston Hall Hotel.

REAL Food and Farming will have its best-ever showcase at the show after clinching almost £10,000 from Awards for All, a Lottery grants scheme funding small, local community-based projects in the UK.

The REAL village at Kilnsey show will encourage both adults and children to become more involved with local food and food producers. REAL was established to both support and promote the Yorkshire Dales uplands and the communities and businesses that depend on them. The initiative has already made a major impact.

Meanwhile, organisers Upper Wharfedale Agricultural Society report that a brand-new showground layout awaits visitors to one of the highlights of the northern show calendar.

Chairman Robert Lambert says that a major revamp of the showground, which stands in the shadow of landmark Kilnsey Crag, north of Skipton, will enhance the impact and appeal of this year's event.

He said: "To all intents and purposes, it will look like a entirely new show, with specific events and attractions strategically positioned to make the day more exciting and entertaining all-round."

A record total of 83 trophies and £16,000 in prize money, including £6,500 in the cattle and sheep livestock classes for which Kilnsey Show is renowed, will again be available.

Also on an action-packed agenda are day-long horse events - show jumping, shires, hunters and harness racing, along with displays and demonstrations showcasing all aspects of agricultural and rural life, including local produce and handicrafts.

The Xtreme Trials Motorbike Display Team, who proved so popular at Kilnsey in 2007, are back by popular demand, while around 150 trade and food stands will also set up stall. The highlight of the annual Kilnsey Sports is the famous Crag Race.


Another Successful Great Yorkshire Show


Commercial Goat Exhibition Returns to the Dairy Event and Livestock Show


New Native Breeds Centre at Dairy Event and Livestock Show