Record Breaking Entries for Great Yorkshire Show
2009-07-02
The Great Yorkshire Show is a record breaker with more entries for the competitive classes than in its history. 2009 sees a total of 12,189 entries compared with the previous best of 11,789 two years ago. Last year entries were hit by the restrictions imposed due to the Blue Tongue outbreak.
Supreme Beef Champion leading the
Cattle Parade 2008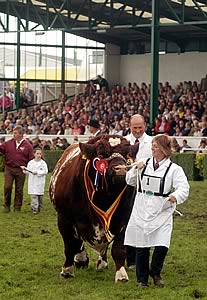 Honorary Show Director, Bill Cowling said: "This is an amazing total, and it is very evident that there is a huge enthusiasm for the Great Yorkshire Show, and indeed for rural life generally."

There are classes across 24 different sections, from driving four in hand coaches to classes for honey, poultry, show jumping and the backbone of the event… the cattle, sheep and pig sections.

Mr Cowling continued: "This year we have a number of individual records – in sheep we have 1,832 entries which is a marvellous total by anyone's standards, wool entries are strong at 210 – the previous best was 189, lamb carcase numbers stand at 80 and our cheese and dairy show equals last year's best of 835. The new classes for harriers have proved popular with a very creditable 161 entries.

"Looking around at other similar events, several also have record numbers which is excellent and indicates that despite difficult times, people still want to attend and exhibit at agricultural shows. I believe we offer not only a superb platform for the industry, but the opportunity for the public to learn more about rural life, and have an enjoyable day out."

This year will be the 151st Great Yorkshire Show, and it runs from Tuesday 14 – Thursday 16 July at the Great Yorkshire Showground, Harrogate. A premier date on the national farming calendar, the show attracts more than 125,000 visitors each year. The packed programme not only has the competitive classes, but a wide range of attractions including a superb display of the region's food and drink, in the purpose built Food Hall, the Flower Show, fashion shows and visitors will also have the rare opportunity to see the "Hull and Humber" – the Round the World Clipper Yacht sponsored by Yorkshire Forward.

Perfect Blend for Greenest Ever Great Yorkshire Show


Sheep Shearing Skills at the Great Yorkshire Show


East of England Show Livestock Judging a Huge Success