Perfect Blend for Greenest Ever Great Yorkshire Show
2009-06-26
Two of Yorkshire's most famous names, Yorkshire Tea and the Great Yorkshire Show, have joined forces to help save the rainforest by pledging to save a tree for every visitor to next month's show.
Nigel Pulling, Chief Executive of the Yorkshire Agricultural Society, Cristina Talens, Ethical Trading Manager, Bettys & Taylors and Jonathan Wild, Chief Executive, Bettys & Taylors celebrating their new partnership with a cup of Yorkshire Tea.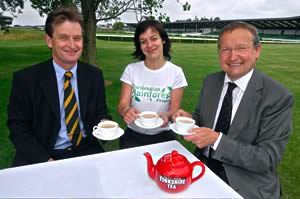 The initiative is part of the family business's newly launched Yorkshire Rainforest Project, a long term commitment to save an area of rainforest the size of Yorkshire. The Yorkshire Agricultural Society, which stages the Great Yorkshire Show, is the first organisation to back the Yorkshire Rainforest Project as part of its commitment to make this year's event the most environmentally friendly yet.

Bettys & Taylors' Chief Executive, Jonathan Wild, said: "We are hoping that the many thousands of people who visit the Great Yorkshire Show this year will also become inspired to help our project succeed. The wholesale destruction of the rainforest is a major contributor to climate change and an acre of rainforest is lost every second of every day. The rainforest is more important to our survival than many of us realise. It's the earth's support system; absorbing carbon and producing oxygen. Saving an area the size of Yorkshire will be our biggest challenge to date."


Nigel Pulling, Chief Executive of the Yorkshire Agricultural Society (organisers of the Great Yorkshire Show), said: "Climate change is an increasing concern and to avert the worst effects in the future we all have to act now - whether it is here in Yorkshire, by reducing energy consumption or reducing greenhouse gases, or helping to protect the rainforests through this important campaign. Our commitment is to making this the greenest Great Yorkshire Show ever."


The Great Yorkshire Show is also working with Northallerton-based waste recycling company Yorwaste to encourage Show visitors to recycle their plastic bottles. A decorated skip will be on site and visitors will be urged to write recycling pledges as well as filling it with plastic bottles. The skip, which will have clear panels so people can see how full it is getting, will be located at the Discovery Zone. It is estimated that 60 per cent of general waste generated at the Great Yorkshire Show will be recycled.

Yorkshire Agricultural Society also contributes to a greener planet by having a variety of year-round recycling projects including paper, cardboard, glass, plastic, metal, mobile phones, printer cartridges, batteries and manure.

The Society will have a further opportunity to highlight its green fingers when judges visit on Monday 29 June for the 2009 Yorkshire In Bloom competition.

Cristina Talens, Bettys & Taylors' ethical trading manager, recently visited rainforest communities in Peru. She added: "For us, the key to saving the rainforest is to work with the people who call it home. To start our campaign we've joined forces with the Rainforest Foundation UK and we'll be helping families make a living through developing small scale sustainable livelihoods and saving trees in the Ashaninka Communal Reserve, in the Selva Central region, which is recognised as a global hotspot. It's here that we will be saving a tree for every visitor of the Show."

Bettys & Taylors will be allocating part of its 5% Fund – a commitment to sharing five per cent of its profits with charitable and community projects – to rainforest conservation and will be supporting the Yorkshire Rainforest Project through fundraising initiatives. A donation from every Bettys Café Tea Rooms 90th Birthday Afternoon Tea sold this summer will go towards funds. The business has a long history of campaigning for the environment and thanks to its Trees for Life Appeal, the business has already planted three million trees around the world.

Sheep Shearing Skills at the Great Yorkshire Show


East of England Show Livestock Judging a Huge Success


Dairy Event and Livestock Show to Relocate to NEC in 2010