Sheep Shearing Skills at the Great Yorkshire Show
2009-06-23
Young shearers are being encouraged to take part in this year's shearing competitions at the 2009 Great Yorkshire Show, which runs from Tuesday 14 to Thursday 16 July at the Great Yorkshire Showground in Harrogate.
Blade shearing at the Great Yorkshire Show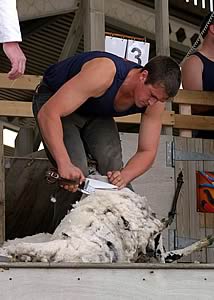 In recent years, the number of young shearers competing at the show has increased as a result of more training courses run by the British Wool Marketing Board.

Bob Richardson, Chief Shearing Steward at the Great Yorkshire Show, said: "More and more young people are taking training courses in shearing and the shearing competitions at the show are open to people of all ages, entrants just need a Blue Seal* qualification to make sure they are up to standard.

"We get competitors aged from 16 right up to 70, especially in the hand shearing competitions, and the Great Yorkshire Open Championship attracts the best shearers from all over the world, including from New Zealand and Australia."

The 2009 Great Yorkshire Show has qualifying competitions for the British Isles Shearer of the Year, English Shearer of the Year 2009 and Worshipful Company of Woolmen Junior circuits.

Competitions will take place on Tuesday 14 and Wednesday 15 July, with trophies being awarded at 5pm on each day.

On Tuesday 14 July, young shearers with a Blue Seal qualification can participate in the Great Yorkshire Junior Championship. The winner will receive prize money, a prize certificate, the Perpetual Championship Trophy and tankard. The competitor with the best pen of shorn sheep will also win prize money.

The Great Yorkshire Blade Shearing Competition will take place on Wednesday 15 July at 10am.

Trophies for the Great Yorkshire Open Championship will be presented at 5pm on Wednesday 15 July. The winner will receive prize money, prize certificate, tankard and Perpetual Championship Trophy.

East of England Show Livestock Judging a Huge Success


Dairy Event and Livestock Show to Relocate to NEC in 2010


Food and Farming Offer Brightness in Bleak Economy