EBLEX at Beef Expo 2009
2009-05-28
Classification challenge launched at show
Nearly 100 visitors took part in a computer-based classification challenge launched by EBLEX at Beef Expo to help producers improve their cattle selection skills.
(left to right) EBLEX's Chris Lloyd with competition winner
Mark Lanfear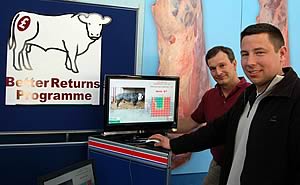 The quiz flashes up pictures of different classifications of cattle. A clue is given - either the conformation or the fat value - and the player then has to click the relevant square on the EUROP grid to complete the classification. There are 12 images in total per game, with the player timed for how quickly they can get all 12.
In the end it was Mark Lanfear, of Pilning, Bristol, who managed to get all 12 answers right in a time of 46 seconds.
Stock judging contest
A stock judging Competition run by EBLEX with a total of more than £2,000 in prizes up for grabs attracted a bumper entry at Beef Expo.
First prize in the Open Stock Judging Competition went to Melissa Timmis, of Shropshire, who walked away with a cheque for £400 and the perpetual trophy. In the YFC Open Stock Judging Competition, winner in the 19 to 26 years old category was Harry Gilder, of Worcestershire. Harriet Wilson, of Staffordshire, took the Rose Bowl in the under-18s section.
In the Guess the Weight competition, the open entry was won by F G Goodall, while the YFC section prize went to Christie Joseph, of Brecknock. The correct answer for the combined weight of all four animals in the EBLEX area at the show was 2,534kgs.
Calf numbers fall
GB Calf registrations for the first three months of the year fell by eight per cent, according to new figures from EBLEX. There were 47,881 fewer calves registered than in the same period in 2008, with the greatest decline being in beef calf registrations. Speaking at Beef Expo, EBLEX Economic and Policy Manager Mark Topliff said the figure was a concern for the industry.
Export success
Delegations from Poland, Romania and the Czech Republic were among the visitors to the EBLEX stand at Beef Expo. Organised by EBLEX and British Livestock Genetics (BLG), Herefords, Simmental and Blondes were among the breeds which the Poles in particular showed great interest in purchasing to help improve the quality of their breeding stock.

Full Steam Ahead for the Three Counties Show


Crowds Throng to Beef Expo 2009


Scottish Judges Pull in Bumper Livestock Entries at East of England Show