Carlisle Aberdeen-Angus Trade Tops at 7500gns
2009-05-26
Trade topped at 7500gns at the Aberdeen-Angus spring show and sale of bulls and females at Borderway Mart, Carlisle last weekend (22 May), with a strong clearance and a healthy demand from commercial beef producers.
Duncanziemere Edwin G249 sold for 7500gns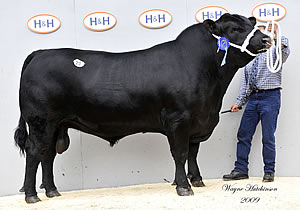 Leading trade was the second prize Duncanziemere Edwin G249 from Alistair Clark, Cumnock, Ayrshire. This Wrae Big brother D047 son is out of the Newcairnie Pastor Z006 daughter Duncanziemere Edwina E178 and has a Terminal sire Index of +30 and a Self Replacing Index of +40. Buyers were renowned Cheviot breeders Willie and Jimmy Thompson, Nr Kelso, Roxburghshire.
Second highest 5500gns was J and W Arnott's May 2007 Haymount Embo G717. This one is by the Eastfield Elevator son and Perth 2005 junior champion Old Glenort Kallum D784 and out of the Lord Horatio P11 of Blelack daughter Haymount Evatrona Z014. Embo has a Self Replacing Index of +39 and heads to Glenluce, Wigtownshire with P Crawfurd.
Haymount Embo G717 sold for 5500gns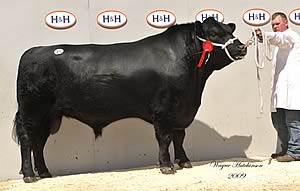 At 5100gns, R and E Vance, Newton Stewart, Wigtownshire, took home Cardona Edwin G523 from Robert Galloway, Doune, Perthshire. Edwin is homebred on both sides and is sired by the Lockerley Eastern Cruz son Cardona Edgar and is out of Cardona Edwina and has a SRI of +30.
Heading to Duns, Berwickshire, with LL Macvie and Co, is Newbank Emperor G059 from M and S Wilson and Sons. Full brother to the May 2007 Carlisle champion, Emperor is by Golenmoy James Eric and is out of the Mushroom Friar Fergus daughter Cardona Ermus. He sold for 500gns.
At 5000gns, Lena Forbes, Nairn, sold Lochdu Calibre Boy G209 to C Gurney, Foscott, Buckinghamshire. This one is by Blelack Justin Eric A238 and is out of the herd's biggest cows Lochdu Cherry Blossom Y229.
The highest priced bull from the Massie family string was Blelack Kintail G756, a son of Nightingale Ernie B133 out of Fordafourie Kirsty Z036. With a milk figure of +9 and a SRI of +25, this one heads to DEW Kibble and Sons, Heriot, Midlothian, at 4500gns.
Four bulls followed with a 4000gns price tag, the first of which was Cheeklaw Black Bently G264 from David Lucas, Duns. By the Ankonian Elixir son Tweedside Jewgal Eric, he is out of Cheeklaw Black Beauty B082, who goes back to the Canadian import sire HF Air-Walk 33F.
David Evans, Nunthorpe, Middlesborough, sold Tree Bridge Embassy G161 at the same money. Homebred on both sides, he is by the Skaill Delta B481 son Tree Bridge Edwin D076 and is out of the Skaill Dunlop daughter Tree Bridge Ermine C046. He sold to RM Johnston, Riding Mill, Northumberland.
The other at the same money was another from the Massie family, Blelack Errol G720. By Nightingale Defiance E264 out of Blelack Evora D988, this one has a SRI of +35 and sold to GT and S Coghill, Birsay, Orkney.
The final bull at the same price tag was the first prize Haymount Etruscan G779 from J and W Arnott, Kelso. By the Dalrene Cruz son Tonley Elgin D226 out of the Cardona Eagle daughter Haymount Elrana B172, he sold to WM Robinson, Wigton, Cumbria.
The champion, tapped out by Berkshire-based Robert Bishop of the Warrenho herd, was Drumdow Popeye G455 from W and E Brown, Girvan, Ayrshire. Sired by The Moss Mr Esspresso, he is out of Drumdow Proud Dorothy B108 and has a milk figure of +9. He sold for 3000gns to SJ Payne, West Hallam, Derby.
Leading female trade was JE Thomlinson, Carlisle, Cumbria, with their 2000 born cow Wedderlie Prudence Z001. By Lord Horatio P11 of Blelack, she is out of Wedderlie Prudence and sold having run with Windsole Black Bandit to HM Prison Services Kirkham, Nr Preston. The same buyers also took home Malcolm and Linda Wilson's April 2005 cow Windyhill Miss Burtha E092 with bull calf at foot for 2000gns and the female champion Border Lyne Gammada G083 from Mr and Mrs M D Story for 1400gns.
Averages: 45 bulls £3094 (up £302.75); 2 served maiden and or maiden heifers £1197; Falconer herd 16 females £920.
Auctioneers: Harrison and Hetherington

Parkhouse Limousin Cow Leads Carlisle Sale at 20,000gns


Charolais Command Solid Trade in Carlisle


Pre-Sale Weighing of Cattle Can Boost Earning