2009-04-28
Many farmers have been experiencing very dry conditions for up to six weeks making life very difficult for those who opted for urea as their prime source of nitrogen this season.
Masstock's crop nutrition specialist David Langton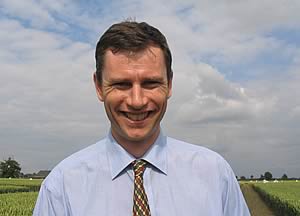 "Urea and warm dry weather don't mix," says Masstock's crop nutrition specialist David Langton. "N losses from volatilisation are likely to be very high when urea is applied under such conditions," he warns. "Our advice is to check local weather forecasts and delay applications until rain is forecast."

The weather this spring has underlined what every farmer already knows – urea is a riskier option. However when purchasing decisions were being made the price differential between urea and the alternative, ammonium nitrate, was wide enough for many farmers to take a risk with urea. Unfortunately that decision may have put yields at risk as it has proved difficult to get urea on when the crop has needed it.

"Farmers have been holding back on applications waiting for better weather conditions to minimise volatilisation losses," adds David. "We're already seeing fields where earlier applications of urea just haven't done the job required - you can see the difference."

"The problem is made worse as we really cannot predict with any certainty how much N will be lost. Research has shown this is very variable. It might be 0% but it could just as easily be 30% or even more than half the N lost; we just don't know. That makes upping rates to compensate too much of a lottery," he says.

"We know that ammonium nitrate will always be the more reliable product and with four out of the last eight springs being dry there's a 50% chance of a dry spring and that makes using urea a high risk strategy," he concludes.

Managing Farmyard Manure for the Greatest Value


Surge in Demand for Calcified Seaweed Fertiliser


Syngenta Initiative Responds to Grain and Fertiliser Price Pressures