27/01/09
A new initiative to help cereal farmers fight back against the effects of grain price volatility and high fertiliser costs in 2009 is being launched by Syngenta.
High yields could be crucial to cereal profit this season - to reduce the cost of production by spreading costs over more tonnes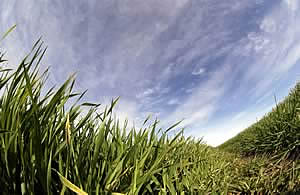 Called 'Making your investment work harder', its first aim is to help growers maximise profits by maintaining high yields, says Syngenta campaign manager, Rod Burke.

But, importantly, it goes beyond this by seeking ways to expand the margin between the cost of a treatment and the value it delivers, he stresses. This could either be from using crop protection inputs which offer additional return on investment, he says, or which can improve technical efficiency – for example by better yield protection through more timely spraying, or even boosting the efficiency with which crops utilise fertiliser.

"While the medium to longer-term outlook for cereal growing looks promising, with increased demands for food, feed and fuel of a growing world population, for 2009, the current fertiliser costs and grain price pressures are creating a need to mitigate these effects.

"High yields are the crucial starting point to profit because they help reduce the cost of production per tonne – by spreading fixed and variable costs over more tonnes. Indeed, five years of results have shown that upgrading from no fungicides to a full programme sliced nearly £25/t off production costs, and increased yield nearly 2.5 t/ha."

Also, effective yield protection is important to protect the greater fertiliser investment being made in crops, says Mr Burke, since diseases, weeds or lodging can all slash yields by 3.5 - 4 t/ha.
Simply upgrading from a basic three-spray triazole + Bravo based fungicide programme to one which also included a T0 fungicide and Amistar at T2 and T3 added 1 t/ha to yield, says Mr Burke, yet it only increased total growing costs by 2%.

"What we've done with Making your investment work harder is to say, okay, growers need to maintain or improve yields, but they need to do it cost-effectively? Then we've looked at how our products can be used to help achieve this.

"So, for example, we know it's important to include Bravo in wheat programmes against Septoria tritici, with trials between 2005 and 2008 showing that omitting it from two triazole sprays in a season reduced yield by 0.8 t/ha.

"So we've looked at how a ready-formulated mixture of chlorothalonil with triazole, in Cherokee, can give growers a more cost-effective route to getting chlorothalonil into their T0 and T1 fungicide programmes. We have collated data from over 150 trials over four seasons which show Cherokee has given similar overall yield to alternative triazole-based standards. Yet we know Cherokee offers a saving of between 15% and 30% over commonly used standard options."

Syngenta cereal portfolio manager Simon Parker says that efficiency gains are also possible with crop protection inputs. Efficient use of fertiliser is likely to be high on growers' agendas this season, he believes. So he has examined how crop protection inputs can help.

"We've found that, as well as helping protect against lodging, independent research is increasingly linking the improved root growth from the plant growth regulator Moddus to improved scavenging for water and nutrients," says Mr Parker.

"Moddus has been shown to improve the uptake of potassium and phosphate, and give more yield per kilo of nitrogen applied. It has also improved yield in phosphate-starved plants.

"While these are not a cure for poor nutrient management, they illustrate potential additional benefits of using a PGR, on top of lodging management. For example, there is talk of growers reducing P and K use where soil levels are adequate, to save costs."

Similarly, as well as boosting yield and improving greening, the strobilurin Amistar could also play a key role in extracting greater value from available nitrogen, says Rod Burke, after being shown to increase the activity of the enzyme which converts nitrate absorbed from soil into useable nitrite inside the plant.

"Another area we're looking at is how to improve the returns from the thin crops we're seeing this season, following late drilling," adds Simon Parker. "In these situations, high yield is arguably even more important for profit.

"We're looking at cost-effective programmes to boost their output, and we've done a huge amount of work looking at improving profitability through more efficient spray application over the years. For instance, every day that sprays are delayed yield can suffer. So we have strategies for better-protecting yield by improving spray timeliness, for example with wild oat control with Axial. This season, these should really come into their own."

Graham Redman, research economist for Andersons, agrees with the need to maximise yield to counter current financial pressures.

"You've got to get the tonnes per hectare up but the cost per tonne down. Definitely minimise the cost of production," Mr Redman points out. "We're now going back to the stage where the cost of production and the price of wheat are getting closer again. So a few pounds either way can have a big impact on profitability," he adds.

Don't Gamble with Yields and Quality - Masstock


Calcified Seaweed Available Again


Service to Help Farmers Save Money on Purchased Fertiliser