Three Hundred Cattle on Display at Beef Expo 2009
2009-04-29
A record 24 beef breed societies have reserved exhibition space to demonstrate the merits of their breeds for commercial beef production and 60 cattle have been entered for the National Spring Spectacular Show being held at Beef Expo.
The Longhorn Cattle Society will be one of
24 beef breed societies represented at Beef 2009.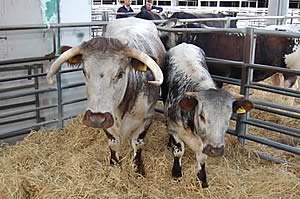 The UK's national beef event, organised by the National Beef Association, with Lloyd's TSB agriculture as major sponsor, will be held at The Three Counties Showground, Malvern, Worcestershire on Thursday May 21.
In addition, a new show for pedigree calves has attracted an entry of 26 and 7 youngsters will be taking part in a cattle preparation competition.
"These new competitions will give Beef Expo an added dimension this year and ensure there is something for everyone at this year's event", said event organiser, Euan Emslie.

"The demonstrations by a record 24 beef breed societies confirms Beef Expo as the premier event for the UK beef industry and will give commercial beef farmers a unique opportunity of viewing and assessing the variety of breeds available in the UK."
The six classes for Continental and mature cross steers and heifers in the Spring Spectacular will be judged by leading Welsh commercial beef producer and showman, Afron Jones from Anglesey and the four classes for Continental and mature breed classes by noted breeder, John Owens from Leominster.
The cattle preparation competition, open to youngsters aged between 14 and 20, is designed to further the skills of stockmanship. It will be judged by stockman, Peter Bodily from Milton Keynes.
The Following breeds will be represented in the cattle demonstration area – Aberdeen – Angus, Beef Shorthorn, Bazadaise, Blonde, Blue, Charolais, Gelbvieh, Limousin, Simmental, White, Devon, Hereford, Highland, Lincoln Red, Longhorn, Luing, Murray Grey, Red Poll, Salers, South Devon, Stabiliser, Piemontese, Welsh Black, and White Park.
In addition to Lloyds TSB Agriculture as a major sponsor the mainline sponsors of Beef Expo 2009 are Dunbia, The Hereford Cattle Society, IAE, Intervet Schering – Plough, Richard Keenan (UK), WM Morrisons Supermarkets and Three Counties Agricultural Society.

Cumberland County Show - Cumbria's Best Family Day Out


British Show Jumping Award for the Great Yorkshire Show


Dancing Sheep to Wow Crowds at 200th Otley Show