Cumberland County Show - Cumbria's Best Family Day Out
2009-04-28
The Cumberland County Show takes place in Rickerby Park, Carlisle on 18th July 2009. Class chedules are now available for livestock and horses, the crop competition, industrial classes and the rabbit and dog shows.
Grand Parade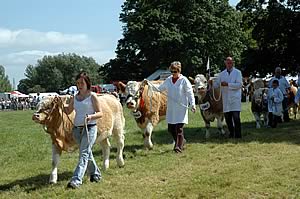 The livestock section of the show this year hosts the National Galloway Show, where cattle will be housed in their own marquee.
Elsewhere in the cattle section there is a Spanish judge, Jaume Serrabassa, to celebrate the Holstein UK Centenary year, special incentives for British Blue and a new Aberdeen Angus section. The recently added Commercial Cattle and young handler classes are expected to be even more popular.
The ever growing sheep section has 12 breeds again. Goat entries are expected to be boosted by the Northern England Goat Show to be held at Rickerby Park on the Friday, 17th July.
The new Riding Hack and Cob qualifiers for the Royal International Horse Show are expected to further develop the already high standard of entries in the Horse Section, which has included Hunter qualifiers for several years. New classes for in hand riding horses and hacks are also available.
The judge for the Champion of Champions amongst the cattle, sheep, goats and horses is Mr Derek Swindlehurst, from Lynefoot, Westlinton. Mr Swindlehurst, a well respected farmer, has supported the show for many years. Entry forms should be completed and returned by 18th June to take part in the livestock section of the show.
The Crop competition is again available to farmers within 20 miles of Carlisle, and includes 9 crops. The Industrial section has a wide range of crafts and baking competitions, and includes the school competition with prizes sponsored by Cumberland Building Society and Walby Farm Park. The popular rabbit, poultry and dog sections have schedules with a large choice of classes.
Schedules and entry forms are available on the website of the Cumberland Show, www.cumberlandshow.co.uk. or by telephone from the secretary on 016977 47397 (livestock and others) or 016974 72330 (industrial).

British Show Jumping Award for the Great Yorkshire Show


Dancing Sheep to Wow Crowds at 200th Otley Show


The "Black Farmer" is Guest Speaker at Beef Expo 2009