British Show Jumping Award for the Great Yorkshire Show
2009-04-24
Staff at the Great Yorkshire Showground are celebrating after being voted the BSJA (British Show Jumping Association) Members County Show of the Year.
Amanda West, the show's Entries Co-ordinator and Bill Cowling, Honorary Show Director holding the BSJA Members County Show of the Year Award.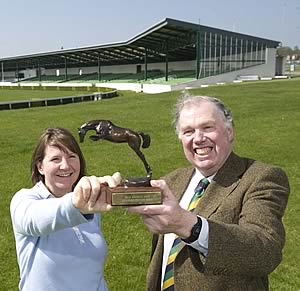 At a glittering presentation ceremony, Amanda West and Mark Stoddart from the Great Yorkshire Show office were presented with the award – a bronze statue – in recognition of the event's popularity with exhibitors. The Great Yorkshire Show is one of the most prestigious agricultural and countryside shows in the UK and last year was attended by HM The Queen and HRH The Duke of Edinburgh.

The award was made following a voting procedure by BSJA members. Comments sent by members included: "One of the best equestrian shows in the country"…. "Good jumping always guaranteed in front of an appreciative audience…"They (the staff) are so professional and even streamed it on line for those unable to go"… "Great atmosphere and a fab arena to view."

Bill Cowling, Honorary Show Director: "We are absolutely delighted to receive this wonderful Award, and thank all those who took the trouble to vote for us. Show jumping has always been a major part of the Great Yorkshire Show and we pride ourselves on the care we take in preparing the ground and in the tremendous support we receive from exhibitors. Our crowds are knowledgeable and enthusiastic and the Cock o'the North Championship on the final day has to be one of the best competitions you could see at any show."

Dates for this year's event are Tuesday 14 – Thursday 16 July and, as ever, the show jumping takes place over all three days with two classes in the Main Ring each day. Last year saw the Cock o'the North title go to Laura Stephenson of Keighley, West Yorkshire on Harvey Smith's Sultano. The closing date for show jumping entries is Friday 5 June.

For more information see the website www.greatyorkshireshow.co.uk or ring 01423 541000.

Dancing Sheep to Wow Crowds at 200th Otley Show


The "Black Farmer" is Guest Speaker at Beef Expo 2009


Longhorn 12 Volt Sheep Shearing Championship