Dancing Sheep to Wow Crowds at 200th Otley Show
2009-04-23
The Sheepshow, an entertaining and educational live show of sheep breeds and shearing, is set to wow the crowds at this year's 200th Otley Show next month.
Sheepshow Race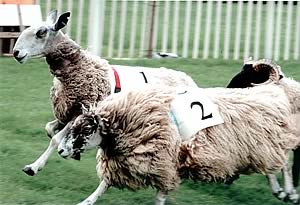 The first big regional agricultural event of the 2009 show season is set for lift-off on Saturday, May 16, at the Bridge End showground and organisers Wharfedale Agricultural Society have left no stone unturned in a bid to make the landmark bicentenary event the biggest and best in living memory.

The Sheepshow, set on the back of a 40ft stage trailer, where the sheep are introduced on to the stage, is seen at numerous outdoor events across the country throughout the year.

"It's a bit like Miss World in sheep!" says New Zealander Richard Savory, who owns and operates the show from his Norfolk farm base.

The sheep, with wonderful names like Nobby the Norfolk Horn and Susie the Southdown, are applauded onto the stage, where they stand on their podiums for the 30-minute show, followed by a shearing demonstration showing how wool from the sheep's back ends up as a woolly jumper to wear. There's even "The Sheepshow shuffle" – complete with dancing sheep, as well as sheep racing!

Other attractions include The Knights of the Damned jousting display team, Yorkshire Military Marching Band, Otley Brass Band, Mountgrace Gun Dog Display, Ben Potter Birds of Prey, National Vintage Engine Club, Heavy Horse Turnout Challenge, Badsworth and Bramham Moor Hunt, flyfishing and other demonstrations and competitions.

A one-off special this year is a display covering the 200-year history of Otley Show, which continues to support regional farming and agricultural communities, as well as providing a major boost to the local economy by regularly attracting up to 15,000 visitors.

The brainchild of show president Mervyn Lister, the bicentenary display will cover all aspects of farming and agriculture over the past two centuries, along with a moving pageant depicting rural life. There will also be a grand parade of champions.

As usual, classes for cattle, sheep, horses, ponies, goats, poultry, rabbits, dogs, local produce, handicrafts – and more – represent the backbone of the show. Entries closed on April 16 and this year there will be a grand parade of champions.

The 200th Otley Show will be honoured with a Royal presence – the Duke of Gloucester, who follows in the footsteps of his aunt, Princess Mary, Countess of Harewood, who, as Princess Royal, attended the 150th show in 1957.

BBC Look North weatherman Paul Hudson will be another well-known face in attendance this year.

Major sponsors of the bicentenary event include Waitrose Wm Sinclair & Sons, Stephen H Smith Garden & Leisure, B&TS Builders Merchants, BFE Brays, I'anson Bros and Rosettes Direct.

The "Black Farmer" is Guest Speaker at Beef Expo 2009


Longhorn 12 Volt Sheep Shearing Championship


EBLEX Launch Farm Shop Butchery Competition at Beef Expo