Semex Widens Dairy Stud Appeal
2009-04-21
Having bulls to suit every dairy breeder in the UK whatever their management system or breeding objective: that's the "Semex Works Everywhere" philosophy, and bearing that out is the recent proof run and latest batch of new entries to the Semex stud, says the company.
Daughter of West Port Bookman Red.
Bookman is a true Red and White sire combining Semex's two famous RC sires, Talent and Rubens.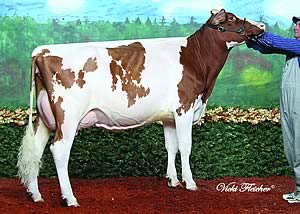 Sons of Semex legend Talent have "proofed-up" strongly enough to warrant inclusion in the stud, with two excellent Talents introduced to the product line-up.
But bringing "a new dimension to Semex's portfolio" according to Willie Tait, Semex's genetics manager, is "the commercial dairyman's dream" - Crockett-Acres Eight. This son of O Man, out of Crockett-Acres Mtoto Elly, is currently ranked No. 3 for PLI in the UK with a score of £226, with 547kg milk of high fat and protein %. Moreover he has a staggering -26 somatic cell count. "This clearly makes him the highest ranking PLI and SCC bull in the country," adds Mr Tait.
Plus for type, mammary, and legs and feet his daughters are medium in stature, with extreme width of chest (+3.00 UK) which makes him ideal for herds wanting maximum use of forage. He also has wide and sloping rumps and has a high score for daughter fertility and calving ability. Daughters milk out easily and his high Lifespan score shows they have the ability to stay in herds for many lactations. He costs £16 a straw.
With yet another Saturday night talent show questionably wowing TV and tabloid audiences, down in the dairy Britain's farmers definitely have got Talent, with the bull still in massive demand, but also in limited supply. However, Semex continues to build on the Talent bedrock by introducing two of his sons - Morsan Frontrunner RC and West Port Bookman Red.
Frontrunner is from the Raven family via Rudolph and out of the superb Markwell James Fiona VG-89 (as a four year old.) Proven in the US as well as Canada he has a very balanced, all-round type, scoring +2.62 Type Merit, +2.22 for mammary and +2.16 legs and feet with a PLI of £120.
Well-shaped feet and shallow, silky, well-attached udders mean his daughters will stay productive for many lactations, says Semex. Wide, sloping rumps help his daughters calve out easily, as shown by his high score of 108 for Daughter Calving Ability. "His daughters are good producers with positive fat and protein % and a lower somatic cell count, all helping to maximise milk revenues," says Mr Tait. "Overall, breeders can expect quality mammary systems, with the tremendous rumps that Talent delivered."
West Port Bookman Red is a true Red and White sire combining Semex's two most famous RC sires - Rubens on the maternal side and Talent on the paternal side. Like Frontrunner, Bookman was also proven in the USA and Canada and shows many of the same characteristics as Talent. He scores +3.10 for UK Type, +3.13 for mammary and +1.52 for feet and legs, with +221kg for milk at positive fat and protein.
His udders are described as being "very snug and silky, and very strongly attached, while rear udders are high and teats are a little longer than average. All this adds up to classy, long-lasting udders". "Bookmans are well-balanced, with ample strength and wide rumps.
Frontrunner is priced at £19 and Bookman at £20.

Locomotive Cogent Sires on Lameness Avoidance Track


High Production Dairy Bull Dotson Has it All


Toystory Creates the Buzz in April 2009 Proof Run