High Production Dairy Bull Dotson Has it All
2009-Apr-14
It's a widely held view that breeding from the highest production dairy bulls means sacrificing daughter health and fitness but one of the latest additions to the Dairy Daughters stud is proving convincingly that you can have it all.
Ocooch Dotson Angelina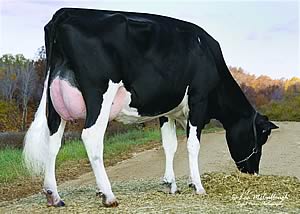 Tomlu Oman Dotson has come through the recent April Holstein proof run with a remarkable 1129kg milk in his PTA (Predicted Transmitting Ability), which not only makes him the highest production son of the legendary O-Bee Manfred Justice, but also gives him the honour of being the highest production of all dairy bulls available to British farmers.
Dotson also boasts a phenomenal 32.3kg protein (again the highest in the UK) and 31.4kg fat, and his overall Profitable Lifetime Index (PLI) is £197.
Despite his remarkable production, Dotson is also a cell count improver (SCC Index -6); he improves the lifespan of daughters (Lifespan Index +0.1) and has a more than respectable daughter Fertility Index amongst the top production sires.
Sire analysts in the USA are describing Dotson as a foot and leg specialist which sires a straighter rear leg that is also straight from the rear with a very deep heel. Rear udders are also said to be extremely wide, teats are short and udders are shallower than average considering he is a top PTA milk bull. He is also a calving ease sire.
"We are delighted to have secured a bull for use by UK farmers which has such impressive all-round credentials," says Evans Drayton from Dairy Daughters. "We brought the UK his sire – which remains in number one position for PLI and has now become an international legend – and were particularly keen to market some of the best of his sons.
"Dotson looks incredibly promising at this point, not only improving on his sire's type in the key areas of legs, feet and mammary, but also offering an attractive linear type profile, with body width and depth, and a little more angularity than his sire. On Type Merit he scores 1.18.
"These are just the kind of cows dairy farmers increasingly tell us they like to milk and it is little surprise for us to learn that this bull is already being used in the USA as a sire of sons. He is also in keen demand by UK producers on liquid contracts."
Dotson's dam is the second generation Excellent Durham daughter out of a Storm, Tomlu Durham Dot EX92. Having averaged over 13,000 litres in her first four 305 day lactations, she gives a clear indication of where Dotson gets some of his production.
Dotson is said to make an ideal mating on daughters of Boliver, Boss Iron, Damion, Marion and Roy.

Toystory Creates the Buzz in April 2009 Proof Run


Stability at Top of Non-Holstein Dairy Breeds' Rankings


New Era for Holstein Breeding - DairyCo