Toystory Creates the Buzz in April 2009 Proof Run
2009-Apr-09
Holstein breeders' bull Jenny-Lou Marshall TOYSTORY has again risen dramatically in the latest proofs with an April 2009 PLI up to £135 (from £104 in January) and a UK Type Merit climbing to +3.21 (from +2.46).
Smiddiehill Toystory Ambrosia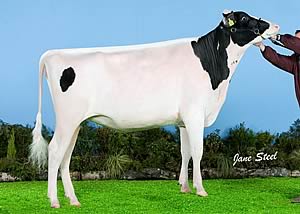 Toystory's continuing dramatic rise is concurrent with the addition of large numbers of daughters to his proof, with these quadrupling from 514 to 2,130 since January.

A BW Marshall son owned by CRI and available in the UK from Bullsemen.com, Toystory's outstanding linear trait profile includes +3.07 Mammary (up from 2.52) and +2.05 Legs and Feet (up from +1.30). His milk production now sits at an emphatic +712kg, up from +574kg in January.

Toystory is 6% for calving ease and is now 0.00 for Lifespan.

Stability at Top of Non-Holstein Dairy Breeds' Rankings


New Era for Holstein Breeding - DairyCo


Ayrshires to Award Top Herd in Gold Cup