Case IH Dealer Oakes Landpower Reaches More Customers
12/03/09
Case IH dealer, Oakes Landpower, is extending its reach to include part of the territory previously serviced by Chichester Tractors. "Our Micheldever branch near Winchester is in an ideal, central location enabling us to now support customers from Southampton across to Reading and south of the M4," said Oakes Landpower group marketing and sales operations director, Kevin Ridley.
Left to right: Gary Brown, Philip Wallis, Philip Cole and Case IH area sales manager, Phil Brown.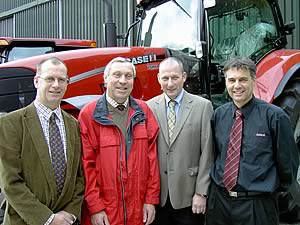 Mr Ridley stressed that the change in the dealer network must offer a seamless crossover in support for the customer and he is confident that Oakes Landpower's heritage will reunite the company with previous clients. "Oakes Landpower bought William Wheatley Ltd in Wickham in 2005. Wheatley had served Case IH customers in the former Chichester Tractors area and key staff members retained by Oakes Landpower such as our service manager, Jeremy Uren, parts manager, Ken Cozens and service technician, Paul Curran, will be well-known to those customers. I am sure the expansion will give us a chance to meet some familiar faces." Oakes Landpower already operates a parts delivery service across the region.
Despite the general economic downturn, Mr Ridley feels this is the right time for expansion and is optimistic about the outlook for 2009, which he attributes to solid commodity prices and easy access to finance. "While the flow of credit is a problem for many, we have been able to offer excellent deals from our finance partner, CNH Capital. We've seen a strong start to the year. Customers are a little more cautious but are making long-term business decisions, helped by Case IH's reputation for quality and reliability."
As part of the expansion process, Oakes Landpower has taken on two new sales staff to support area sales manager Philip Wallis. Field sales manager, Philip Cole, and area sales manager, Gary Brown, have joined the sales team and both have extensive experience in the agricultural and machinery industry.
Oakes Landpower has also expanded its demonstration fleet with a wide range of models from JXU stockman tractors to the multi-purpose Maxxum and Puma to the arable-focused CVX and Magnum models. "There's a very broad mix of dairy and arable farmers in this area and no such thing as a typical customer. With a great range of tractors, balers and combines, I think we've got something for everyone and we look forward to showing these off to farmers and contractors at our open day in June."

New Kuhn Grass Machinery Developments for 2009


Herefordshire Farmer Wins Gold Key John Deere Gator


Drilling and Cultivation Developments from Kuhn at Sima Exhibit