New Kuhn Grass Machinery Developments for 2009
04/03/09
Kuhn is introducing a number of new grass machinery developments for the 2009 season, including a new twin rotor rake to extend its Gyrorake range and the Fast-Fit quick blade release system for its mowers and mower conditioners. These innovations will be demonstrated at Grassland UK in May.
Kuhn GA 8121 Gyrorake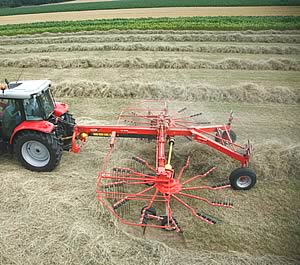 Raking efficiency

Kuhn has further extended its range of trailed twin rotor rakes with the launch of a new 7.4 – 8.0 metre model that complements the existing range of central delivery machines.

At its maximum operating width, the GA 8121 Gyrorake will operate effectively with the vast majority of grass harvesting machines and has the capability of producing a swath from 1.4 to 2 metres wide.

Performance is improved from earlier models by increasing the rotor size to 3.5 metres and the number of tine arms per rotor up to 12, with four tines per arm.

Good stability in work and ground-following performance is achieved through a four-wheel pivoting undercarriage under each rotor, or there is the option of Kuhn's innovative 3D suspension system. This makes the rake ideally suited to working on undulating ground and maintaining its performance when working at high speed with straw.

The two large rear wheels that are guided from the headstock for effective cornering are increased in size and have reinforced wheel columns compared with earlier models in the range. The rear wheels are spaced to allow a 2.5m track width for a centrally formed swath. Hydraulic folding reduces the GA 7501 to a transport position of 2.5 metres.

Strength and reliability is a feature of all Kuhn machines, and this is enhanced in the Gyrorakes with the inclusion of the Masterdrive double reduction gearbox. Centrally located, the gearbox is totally enclosed and is designed to minimise flexing at the crown wheel and pinion gear arrangement, reducing wear and minimizing the risk of breakdowns.

In addition to its twin rotor semi-mounted Gyrorakes, Kuhn also has a range of single rotor mounted side delivery rakes, with working widths of 3.2 to 4.5 metres. All Kuhn Gyrorakes are designed with working widths that are compatible with the company's complete range of mowers and mower conditioners.

Fast fit blades


Quick blade release system.



Anything that avoids down-time has to be a good thing given the constant quest for efficiency, so Kuhn's introduction of a quick blade release system on the majority of its mower and mower conditioners will be welcomed by farmers and contractors alike.

The Fast-Fit system is simple to use, easy to maintain, economic and very secure. With a single tool required to unlock the combination of a strong spring plate and independent securing pin, the estimated time to change one blade is just 10 seconds – a fraction of the time needed for a conventional nut and bolt system.

Discs are reinforced with a forged steel blade holder that provides additional protection against unnecessary wear.

The Fast-Fit quick release blade system is now a standard feature on the majority of Kuhn's GMD mowers and FC mower conditioners.

Herefordshire Farmer Wins Gold Key John Deere Gator


Drilling and Cultivation Developments from Kuhn at Sima Exhibit


Advanced Service from John Deere Technicians