Herefordshire Farmer Wins Gold Key John Deere Gator
26/02/09
Herefordshire farmer Anthony Smith has won the use of a new John Deere Gator utility vehicle for a year, after winning the company's Gold Key promotion.
Anthony Smith with his prize XUV 850D Gator utility vehicle at the Leominster premises of John Deere dealer
Alexander & Duncan Ltd.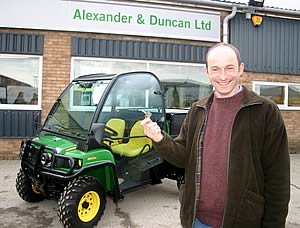 Over 22,000 gold keys were sent out to potential Gator customers last November. Recipients were invited to visit their local John Deere dealer for a test drive and try the key in either an XUV 850D or HPX 4x4 vehicle. When Mr Smith's key fitted the XUV demonstration model at Leominster dealership Alexander & Duncan, he won the right to drive a brand new model for one year, free of charge (not including fuel, servicing or insurance).
Anthony and his family produce beef, sheep and cereals on a total of 340 acres across two farms, so the Gator will be kept busy on the livestock side of the business. "It will be interesting to compare the Gator with our quad bike, I expect we'll be arguing about who jumps on what in the mornings," said Anthony. "Quite a few neighbours have got utility vehicles of one kind or another, but I never dreamt I'd be getting to try one out for 12 months.
"I read about the competition in the press, and it sounded quite interesting so I decided to have a go – if nothing else I thought I'd get a demonstration out of it. I applied for a gold key online, and I was as surprised as anyone when I visited the dealer and the key fitted. I'm not sure now what I'll do at the end of the year, I might get attached to it!"
Simon Amos, dealer principal at Alexander & Duncan, added: "The promotion was a very worthwhile exercise for us; a lot of people came in to try their keys and arrange demonstrations, and we sold four of these Gators as a result. The XUV's higher speed and extra ground clearance are major selling points, and the machine is proving very popular with customers."
Launched in 2008, the 24hp XUV Gator is the most powerful and quickest accelerating utility vehicle on the market, with the fastest top speed at 50kph (30mph). All round independent suspension and true four-wheel drive with front and rear differential locks make this the strongest performing vehicle in its class.

Drilling and Cultivation Developments from Kuhn at Sima Exhibit


Advanced Service from John Deere Technicians


John Deere Dealers Achieve Specialist Status