Drilling and Cultivation Developments from Kuhn at Sima Exhibit 23/02/09
New developments in drills and cultivation equipment were featured on the Kuhn stand at SIMA 2009, with additions to the company's conventional and minimum tillage ranges of particular interest to UK visitors.
Kuhn Megant tine coulter drill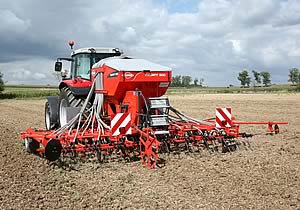 Drilling developments

Versatility is a key benefit of the SD Liner 3000, which is a compact direct drill that incorporates Kuhn's established triple disc system – with its serrated or wavy opener disc and two drilling discs - and Venta pneumatic seed distribution. The low-loading 2,500 litre hopper offers convenience and high work output, and seed rates from just 0.8kg/ha to 400kg/ha can be accurately applied at speeds up to 15km/hr. Opener disc pressure can be easily adapted to soil conditions due to an hydraulic drawbar, aiding the drills versatility and effectiveness.

Kuhn's recently launched Megant tine coulter drill for minimum tillage situations or rapid work in heavy or stony terrain has been developed with the addition of a rear roller. This will increase the range of effectiveness of the drill, says Kuhn, with the machine resting on its front wheels and the rear roller, independent of the tractor, therefore ensuring consistent drilling depth control across its length in a greater range of conditions.

Kuhn has begun making inroads into the precision drill market in the UK in recent years, and Maxima 2 will help this trend to continue. This upgrade on the established Maxima has, across the range, new frames for easier row spacing adjustment and simpler drill-to-tractor adaptation. New models also have an improved fertiliser application gearbox and metering unit, and some model have a second pneumatic pump to ensure regular vacuum across all seeding units.
Kuhn HR 6004 folding power harrows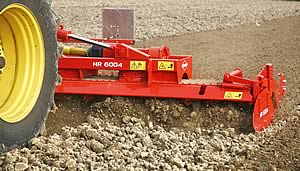 Cultivations
Kuhn has led the market in power harrows in the UK for more than two decades, and it continues to improve its offering with the introduction of the HR 104 and 1004 series in rigid and folding formats. These mid-high end machines will now be available with reinforced side deflector arms and revised deflector walls designed to create a perfectly level seedbed. Some new models are also compatible with Kuhn's new Steel Liner rollers and there is also greater choice in standard or coated blades and availability of the sharp Optimix profile blades.

Development of Kuhn's stubble cultivation range is led by the new Optimer 1002 series. New models offer a tubular chassis for the disc gang for improved structural rigidity and easier working depth adjustment using the roller, amongst other refinements. Optimer 1002 will be available in working widths from 4 to 7.5 metres, with a transport width of less than 3 metres.

Kuhn is renewing its range of power tillers for the horticultural and landscaping markets (tractors under 50hp). The EL 43 range is for tractors up to 40hp and includes models from 1.05 metres to 1.9 metres working width. The EL 53 range is for tractors up to 50hp and is available in working widths from 1.0 metre up to 1.9 metres.

Advanced Service from John Deere Technicians


John Deere Dealers Achieve Specialist Status


Dairy Farm Operations Rely on McCormick