Advanced Service from John Deere Technicians
20/02/09
Six John Deere service technicians have become the first to be presented with their LTA3 industry accreditation, as part of the industry's recently established Landbased Technician Accreditation scheme.
The John Deere service technicians are pictured with their LTA3 certificates on the company's stand at LAMMA '09, alongside consultant Richard Trevarthen (far left), John Deere's manager, customer support Peter Leech (second from right) and IAgrE chief executive Christopher Whetnall (far right):
(left to right): Chris Jacques, Neil Hardie, Tom Cooper, Mark Cann, Carl Pitelen and Nick Wilby.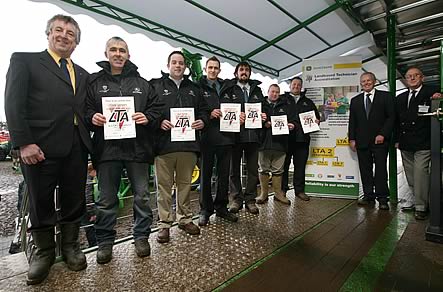 This certifies that they are recognised as advanced technicians with expertise in diagnostics and specialist product knowledge. The six, who were presented with their LTA certificate and jacket on the John Deere stand at LAMMA '09 in January, are:
Chris Jacques – Agricultural Machinery (Nantwich), Cheshire
Neil Hardie – W M Dodds, Jedburgh, Roxburghshire
Tom Cooper – Ben Burgess, Norwich, Norfolk
Mark Cann – Ben Burgess, Norwich, Norfolk
Carl Pitelen – Ben Burgess, Norwich, Norfolk
Nick Wilby – Ben Burgess, Norwich, Norfolk
To achieve full LTA3 accreditation, the technicians had to achieve a large number of training credits in various disciplines covering both selling and marketing as well as product knowledge, including customer care and technical resources. This was followed by an Engineering Council and IAgrE approved interviewing process conducted by John Deere's manager, customer support Peter Leech and industry consultant Richard Trevarthen.
LTA3 accreditation through this approved interview process also includes registration with the Engineering Council as an engineering technician (EngTech), with the ability to display the technician's full qualifications on his service vehicle. Currently John Deere's agricultural and groundscare dealers in the UK and Ireland have 900 staff registered with the LTA scheme, including 452 at LTA1 level, 442 at LTA2, and six at LTA3.
"The LTA scheme is designed to raise the profile of dealership technicians and underline their value to the industry," says Peter Leech. "By reaching this stage, these six John Deere dealer technicians have proved that they are suitably experienced and qualified to provide an advanced level of after-sales support to customers."

John Deere Dealers Achieve Specialist Status


Dairy Farm Operations Rely on McCormick


Riverlea Xtra - Top McCormick Dealer