Catwalk Diversification for Yorkshire Young Farmers
11/03/09
The popular fashion show at the Great Yorkshire Show will have a different dimension for 2009. Organisers the Yorkshire Agricultural Society are launching a search to find young (ish!) farmers with catwalk potential for the show's opening day, Tuesday 14 July.
Young Farmer, Stephen Knowles of Boroughbridge prepares for the Catwalk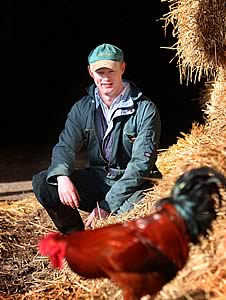 Deborah Goodall, the Society's Marketing Manager explained: "The fashion shows are a vibrant and popular part of the Great Yorkshire Show, and have been for a number of years. For the 2009 Great Yorkshire Show we wanted to introduce a new element and involving young farmers on the catwalk in the Skipton Building Society Fashion Pavilion will do just that.

"Under the heading "From Overalls to Oat Couture", we are launching a search to find eight models to take part in one of the cat walk shows which are held in the Skipton Building Society Fashion Pavilion. We approached the Yorkshire Federation of Young Farmers Clubs and they are happy to publicise this through their membership so we're looking forward to lots of interest from would-be Ashton Kutchers!! Who knows, this could lead to a very different farming diversification!"

Each of the models will be professionally trained, given coaching on grooming and styling, and at the 2.30pm show on the opening day, they will take to the catwalk wearing some of the latest designs from leading names and there will be a case of Black Sheep Beer for the model voted "the best of the best" plus cash prizes for all the models, courtesy of Skipton Building Society.

The fashion shows, which attract over 5,000 visitors each year, include both cutting edge styles from the region's fashion and design students, as well as collections from leading retail stores. The Great Yorkshire Show takes place on Tuesday 14 – Thursday 16 July at the Great Yorkshire Showground, Harrogate.

Miss Goodall added: "This is open to any farmer aged between 18 and 35 years who is actively involved in farming. What we want is for people - girlfriends, mums, friends - to send us their nominations. Or, it can be a self nomination. There's an application form on our website – www.greatyorkshireshow.co.uk . We will then hold interviews and whittle down the number of candidates to get the successful eight, and hopefully in July, we will have some stunning catwalk models."

The shows are co-ordinated by Bernadette Gledhill of the Louise Morton Model Agency.

Further information about how to nominate a model candidate – please see our website or call Sally Wall on 01423 546218 or email sallyw@yas.co.uk for an application form.

NFUS Award For Ken Rundle


Historic Display Set to be Centrepiece of 200th Otley Show


Three New Livestock Competitions at Beef Expo 2009