Historic Display Set to be Centrepiece of 200th Otley Show
05/03/09
A display covering the 200-year history of Otley Show, Britain's oldest annual one-day agricultural show, is set to be the centrepiece of the bicententary event on Saturday, May 16 – the first major regional agricultural event of the 2009 season.
The Knights of the Damned, one of the star attractions at this year's 200th Otley Show.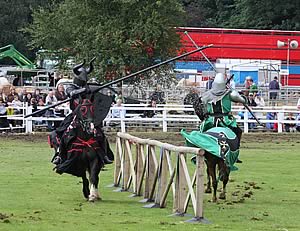 Mervyn Lister, president of organisers Wharfedale Agricultural Society, told the annual meeting that the display would shine the spotlight on all aspects of farming and agriculture over the past two centuries, supported by a moving pageant depicting rural life.

"The whole event promises to be a memorable milestone occasion and with substantial extra costs involved this year, we are hoping to attract additional sponsors, particularly for the bicentenary display," said Mr Lister.

Attractions already lined up for the 200th show include a jousting tournament by The Knights of the Damned, Yorkshire Military Marching Band, Otley Brass Band, Mountgrace Gun Dog Display, Ben Potter Birds of Prey, The Sheep Show - a live stage show about sheep breeds and wool, including a dancing sheep - National Vintage Engine Club, flyfishing and dry stone walling demonstrations and Badsworth and Bramham Moor Hunt.

A bicentenary Heavy Horse Turnout Challenge is also on the agenda, with regular supporter Paul Clayton, of PM Clayton Transport, Bradford, putting up a total of £2,500 - £300 for each of the six turnouts that will be there, plus £500 for the champion and £250 for the reserve champion.

In addition, Anthony Gribbin, of the Leaventhorpe Hall Group of Companies, Thornton, Bradford – he also runs an equestrian centre there - is putting up £500 in sponsorship for the Shire Championship, which features a qualifier for the Horse of the Year Show. The Irish Draught Horse Society has also agreed to give special rosettes to all their exhibitors.

On average, Otley Show attracts 15,000 visitors and remains a highlight in the town's calendar, supporting the region's farming and agricultural communities, as well as providing a major boost to the local economy.

Organisers are pulling out all the stops in a bid to make the 2009 show, to be held at the Bridge End show ground, one of the biggest and best in living memory.

It will again feature traditional livestock and animal classes - cattle, sheep, horses, goats, poultry, rabbits and dogs, supported by classes showcasing the best of local produce, handicrafts, floral art, farriers … and more, including a grand parade of champions.

Some 1,000 exhibitors regularly submit up to 4,000 entries in the show classes, with a record entry anticipated for the bicentenary event. In addition, more than 100 trade stands and food outlets, plus up to 50 craft exhibitors, are expected to be in attendance.

Major sponsors to date include Waitrose supermarket, stationery company Wm Sinclair & Sons, Stephen H Smith Garden & Leisure, B&TS Builders Merchants, accountants BFE Brays, all based locally, I'anson Bros, Masham and Rosettes Direct, Oswaldtwistle.

Full details about the 2009 show, along with sponsorship opportunities for the 200th event, are available from secretary Janet Raw at 15 Bridge Street, Otley, 01943 462541 or 07961 966952. They are also posted on the website at www.otleyshow.org.uk

At the society's annual meeting, all officials were re-elected, including president Mervyn Lister for his final year in office, with ground committee vice-chairman Barry Halvorsen newly elected onto the executive committee. Honorary life memberships were awarded to Brian and Thelma Wilson, Bruce Everall and TG "Big Mick" Mickle.

Brian has served on the ground committee for over 50 years, while Thelma has been involved with the produce sections, notably floral displays, and has only just retired from the committee.

Bruce runs Acrecliffe Equestrian Centre with his wife Anne and has had many years' involvement with the show's horse section, primarily show jumping. Big Mick has been involved with Otley Show since childhood and has a tremendous in-depth knowledge of sheep and cattle.

Over 75 Trophies and Big Prize Money at 200th Otley Show


Three New Livestock Competitions at Beef Expo 2009


Links in the Food Chain? It's All Together Better