NFUS Award For Ken Rundle
09/03/09
SAC's Head of Communications, Ken Rundle has recently been awarded the inaugural NFU Scotland Ambassador Award at the Union's AGM in Aviemore.
Jo Durno and Ken Rundle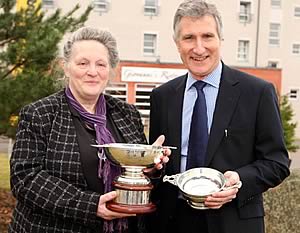 Ken joined SAC in August 2008, after 20 years with BBC Scotland as a rural affairs correspondent and specialist. He joined BBC Scotland in 1986 and, according to the NFUS citation, since then has championed the Scottish agricultural industry and helped to ensure that Scottish farmers are able to get their messages across to the general public.
The new award, established by NFU Scotland and supported by NFU Mutual, was set up in order to recognise the industry's ambassadors – those who have played an influential role in communicating the work, challenges and the value of farming to a wider audience.
NFU Scotland Chief Executive James Withers, speaking at the award presentation, said:
"NFU Scotland is proud to announce that Ken Rundle is the inaugural winner of this new award. Throughout his career, Ken has played a hugely important role in articulating often complex and technical agricultural issues in a way that the general public could understand.
During his time as contributor to radio and front man of Landward, Ken worked tirelessly behind the scenes to ensure that farming stories were not forgotten, at the same time ensuring that even the difficult stories were covered with fairness and integrity.
The Scottish farming industry owes an enormous debt of thanks to a man who has helped to ensure that the farming industry has been kept in the spotlight and given the recognition that it deserves".
NFU Mutual Group Chief Executive Lindsay Sinclair said:
"For nearly 100 years NFU Mutual, together with NFUS, has been supporting the agricultural industry. Throughout that period, the importance of the industry communicating with politicians, consumers and the media has been paramount. We are delighted to be associated with this new award which pinpoints those individuals whose skill, effort and dedication has played a huge role in promoting the industry's message to the wider world. Every industry needs its ambassadors and this is just a small step towards recognising their efforts".
Jo Durno of Deepdale, a regular contributor to Farm Journal, also received an award - the John Miskelly Memorial Award for outstanding service.

Historic Display Set to be Centrepiece of 200th Otley Show


Three New Livestock Competitions at Beef Expo 2009


Links in the Food Chain? It's All Together Better