05/03/09
New guidelines designed to help winter wheat growers lift margins against the current backdrop of grain and fertiliser price pressures, by improving the return on investment from controlling disease, have been unveiled for spring.
New disease control guidelines can help growers select a cost-effective Cherokee dose according to disease pressure, says Syngenta field technical manager Iain Hamilton, or choose one of two new tank mixes if disease pressure turns out to be higher.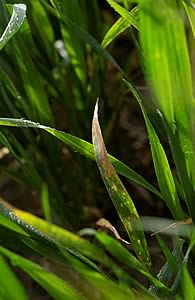 Developed by Syngenta as part of its recently-announced 'Making Your Investment Work Harder' initiative – which aims to help growers maintain high yields, but in more cost-effective ways – the guidelines use the fungicide Cherokee as their foundation, says company field technical manager, Iain Hamilton.
However, by providing a range of doses tailored to disease risk, plus launching two new Cherokee-based tank mixtures for higher risk situations, the guidelines allow growers to be more targeted with fungicide use, he says, to help achieve a more cost-effective result.
"With current grain and fertiliser prices putting strain on winter wheat profitability this season, there's even less margin for error to get disease control wrong or spend too much achieving it," says Mr Hamilton.
"Instead, while growers need to be confident of maintaining high yields, it's equally important to scrutinise the cost of the programme versus what it can give in return. In other words, margin over fungicide cost (MOFC) will be key.
"In wheat crops, the top three leaves contribute about 70% to final yield, and a spring T1 fungicide is the primary opportunity to start protecting this part of the canopy. For these reasons, T1 has been a key focus of these guidelines," he adds.
With Septoria tritici likely to be the main foliar disease threat during the earlier part of this season, after the wet winter, Mr Hamilton says chlorothalonil will be an important starting point of many growers' fungicide programmes – not least for its anti-resistance protection against the disease. However rusts could come in later, he notes.
"Cherokee already provides growers with a cost-effective way to include chlorothalonil in programmes – along with doses of two different triazole fungicides to add curative activity against Septoria tritici and activity against rusts.
"Now, the latest guidelines can be used to help growers improve cost-effectiveness further by selecting from a range of four different Cherokee doses – from 1.0 l/ha for the lowest Septoria pressure to 2.0 l/ha as disease risk increases.
"They also introduce two new Cherokee tank mixes if Septoria pressure is very high, or eyespot is also a disease threat.
"All these options are geared towards improving returns on fungicide investment. Compared with two or three active ingredients often used at T1, these new mixtures target disease with four or five, yet calculations show them to give improved margins over fungicide costs."
Pointing to the first tank mixture of Cherokee + prothioconazole, Mr Hamilton says this includes four active ingredients and is for high Septoria tritici pressure with low to moderate eyespot.
From trial results, a programme of 1.33 l/ha of Cherokee + 0.4 l/ha of prothioconazole was calculated to give £64/ha extra margin over fungicide cost over a tank mix of 0.6 l/ha prothioconazole + 1.0 l/ha chlorothalonil which might normally be used, he points out.
Meanwhile, the second tank mix of Cherokee + epoxiconazole / boscalid is designed for situations of higher pressure Septoria tritici, but this time with higher eyespot pressure, and targets disease with five active ingredients, he notes.
In trial results, a programme of 1.33 l/ha of Cherokee + 0.75 l/ha of epoxiconazole / boscalid gave a greater Septoria tritici reduction than a tank mix 1.0 l/ha epoxiconazole / boscalid + 1.0 l/ha of chlorothalonil which growers might use, says Mr Hamilton, and £57/ha extra margin over fungicide cost.
"Both these new tank mixtures allow growers to maintain the core benefits of Cherokee – as a cost-effective option – while giving extra disease control activity.
"They have been independently tested and have given higher levels of Septoria tritici control in trial plots. Yet they don't add significantly to cost.
"With its high triazole content, Cherokee increases curative effect if disease has already started to establish. It can also boost rust control, while its triazole components are also mobile within the plant, which can be important with rapid spring growth.
"If growers omit an earlier T0 fungicide, the new mixtures could be especially useful for additional curative activity at T1.
"Growers are used to tank mixing fungicides anyway. So there's no extra tank mixing involved. What we're saying with these mixes is consider using Cherokee instead of simply adding chlorothalonil," he adds.
T1 winter wheat disease control pointers from Syngenta
Pressure on wheat profits makes maximising return on investment from disease control crucial
Septoria tritici is likely to be the main early-season disease focus this year – making chlorothalonil a core fungicide foundation at T1
Cherokee already provides a cost-effective route to chlorothalonil
Latest guidelines for cost-effectiveness help target its use even more closely to disease risk:

Normal Septoria tritici risk – range of straight Cherokee doses from 1.0 - 2.0 l/ha
Higher Septoria tritici risk with low to moderate eyespot – new tank mix of 1.25 l/ha Cherokee + 0.4 l/ha prothioconazole
Higher Septoria tritici risk with higher risk eyespot – new tank mix of 1.25 l/ha Cherokee + 0.75 l/ha epoxiconazole / boscalid
Latest T1 Cherokee guidelines from Syngenta according to disease risk

* Maximum individual dose of CHEROKEE is 2.0 l/ha
PTZ = prothioconazole
EPZ/BOS = epoxiconazole with boscalid

New Wynnstay Store Opens its Doors in Leominster


Barenbrug's Barmix Gets the Thumbs Up after Trial


Bumper Rice Harvest Could Ease Consumer Prices