05/03/09
A brand new farm and country store selling a range of agricultural, equine, pet food, household and hardware products has been opened in Leominster.
Alan Dickson, Ken Greetham & Gill Dickson (left to right) formally open the new Wynnstay Store in Leominster.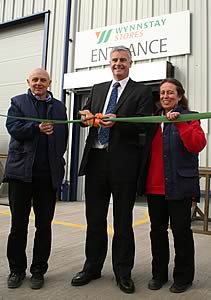 The new Wynnstay store on Southern Avenue in Leominster, offers something for everyone: from sheep and cattle farmers to horse-owners, pet lovers, DIY enthusiasts and country dwellers. The store is being run by Alan Dickson and his team, with additional on-farm support being provided by Gill Dickson who specialises in advising farmers on best practises in animal health, dairy hygiene, and nutrition. Meanwhile, David Pugh, Wynnstay's area sales manager will be on hand to give advice on bulk feed, fertiliser and seeds, while Tom Williams will advise on pig and poultry.

The new store is housed in a brand new, state-of-the-art facility, which provides a total of 7,200 square feet of space. The store opened its doors to customers on Monday 2nd March and was officially opened by Wynnstay's chief executive, Ken Greetham.

"At a time when many high street shops are facing difficult times, Wynnstay is very pleased to be expanding its chain of country stores," said Mr Greetham. "The new store will allow Wynnstay to provide a wider range of services to the local farming community in and around Leominster.

"Our business continues to go from strength to strength and this success is based on the principle of providing high quality products at great value prices," Mr Greetham added. "And with such an experienced team running the store and providing on-farm support, our farming customers from across the region will be able to tap into a wealth of advice.

"With the support of our staff at the new store, we look forward to forging strong relationships with a new network of customers across Herefordshire, Worcestershire and the bordering counties and to working closely with farmers from across the region."

Barenbrug's Barmix Gets the Thumbs Up after Trial


Bumper Rice Harvest Could Ease Consumer Prices


BCPC Challenges EU Pesticide 'Blacklist'