02/03/09
Barenbrug's Barmix forage mixture has impressed a Hexham-based farmer who participated in a trial held in partnership with agricultural seed supplier Carrs Billington.
Cowbyers Farm's Michael Forster, right,
with Carrs' Chris Chomse.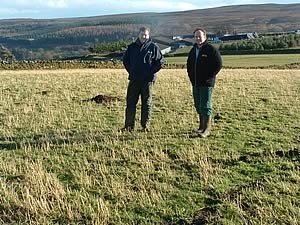 Cowbyers Farm's Michael Forster agreed to reseed six-acres of grazing pasture for the four-year trial. Three two-acre blocks were sown with two long-term mixtures from Carrs and Barmix, also a long-term mixture with an exceptional yield and extensive growing season.
Nestled on the County Durham and Northumberland border, Cowbyers Farm's highest field is 1,100ft and home to flock of 825-head Mules, Scotch Blackface and Bluefaced Leicesters. Michael says he was particularly pleased with Barmix's performance after two of the farm's wettest summers on record.
"I was very impressed with the results of the Barenbrug block," he says. "The grass starts growing earlier in the spring and also continues longer into the autumn. When we've cut it, it's the only grass that's stayed 'on its feet' as the rest of the grass tends to go down in the wet. Overall it's performed very well in spite of the bad weather."
Michael, who also has 200 hoggs wintered away and 75 suckler cows, reports that the sheep found the mixture highly palatable too. "David Long, Barenbrug's agricultural product manager, told me they may not find it palatable at first due to the cocksfoot content," he continues. "But within 24 hours they liked it and even seemed to prefer it."
David Long says that the results support the findings of other trials conducted by the specialist grass seed breeder in Northern Ireland, which show Barmix – a unique blend of Barenbrug-bred cocksfoot, tall fescue and Timothy with ryegrasses and white clover – to be a persistent, productive, palatable sward suitable for both extensive and intensive beef and sheep production.
As David explains: "In particular, in replicated trials Barmix produced grass dry matter yields significantly higher than top quality perennial ryegrass mixtures. Under a high nitrogen regime it also out-yielded perennial ryegrass by eight per cent, and under organic management, where the nitrogen is supplied by clover, Barmix produced a massive 19 per cent increase in yield over ryegrass mixtures."
Michael's experience of Barmix certainly supports these findings. "Overall, it established very well and hasn't been grazed out or taken over by other species," he adds. "It's very robust. In total, we cut 150 acres of land and the only area that's stayed fully on its feet is the Barmix block, plus it baled up reasonably dry."
For more information on Barenbrug's Barmix or other forage mixtures, call 01359 272000 or email info@baruk.co.uk to request your free copy of the company's Forage Catalogue 2009 specific to your area. Alternatively, copies are available for free download from www.barenbrug.co.uk.

Bumper Rice Harvest Could Ease Consumer Prices


BCPC Challenges EU Pesticide 'Blacklist'


Prioritise Rotational Recovery with Spring Cropping