John Deere Dealers Achieve Specialist Status
19/02/09
A group of John Deere dealer staff from 11 counties in England and Scotland have become the first in the UK to achieve AMS Specialist status in the company's new certification programme.
(left to right): John Deere AMS product manager Mark James
Steve Bate – Farol, Milton Common, Oxfordshire
Adrian Fullman – P Tuckwell Ltd, Gt Dunmow, Essex
Michael Lloyd-Yates – Bell Agricultural, Romney Marsh, Kent
Simon Mudd – Sharmans Agricultural, Melton Mowbray, Leicestershire
Carl Pitelen – Ben Burgess, Norwich, Norfolk
Jason Toogood – AIS, Sudbury, Derbyshire
Ian Wibberley – The Burdens Group, Sutterton, Lincolnshire
John Deere agricultural marketing manager Chris Meacock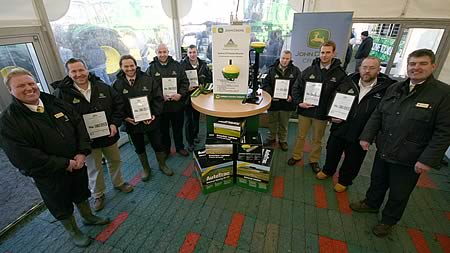 The programme has been designed to increase the dealer network's knowledge of, and expertise in, John Deere's fast-developing Agricultural Management Solutions (AMS) product range for precision farming. This includes GreenStar satellite guidance systems such as AutoTrac and iTEC Pro, AMS documentation and software such as FieldDoc, and ISOBUS implement technology.
(left to right): Trevor Bolton – Chris Tallis Farm Machinery, Evesham, Worcestershire
Chris Bufton – Alexander & Duncan, Leominster, Herefordshire
Richard Lyall – Thomas Sherriff & Co, Haddington, East Lothian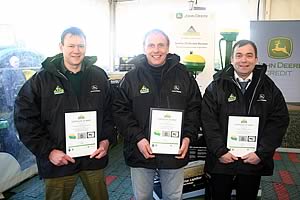 To gain full certification, the group had to undergo a preliminary AMS Ready instructor led training course at Langar, followed by an AMS Test Out distance learning module. The next stage included two further distance learning classes on the various subjects, followed by a final practical test session at John Deere's Langar headquarters in front of the company's crop systems specialists and AMS product manager Mark James.
To recognise their achievement, 10 of the pilot group of 11 successful candidates were presented with their AMS Specialist certificates and jackets at LAMMA '09 in January. The group includes dealers from Borders, Derbyshire, East Lothian, Essex, Herefordshire, Kent, Leicestershire, Lincolnshire, Norfolk, Oxfordshire and Worcestershire.
"Following this successful introduction, the programme is being extended to all John Deere's UK and Irish dealerships from February 2009," says John Deere's agricultural marketing manager Chris Meacock. "This will give our whole network the opportunity to train a member of staff to a recognised level of competence with AMS products, and to increase their ability to sell and support this dynamic product range."

Advanced Service from John Deere Technicians


Dairy Farm Operations Rely on McCormick


Riverlea Xtra - Top McCormick Dealer