Dairy Farm Operations Rely On McCormick
18/02/09
A good choice of tractors and first-class support from the local dealer – that's what dairy farmer John Sollis says he needs to keep the large dairy enterprise at Ffynnon Ddofn, Newport, Pembrokeshire running efficiently throughout the year.
John Sollis receives the key to one of his three new McCormick MC130 tractors from
Mike Hill of Riverlea.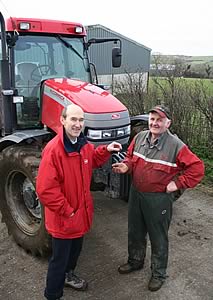 "We run a closed herd of 400 black and white milkers, plus around 550 replacements and beef animals, so we've a lot do on the farm every day," he points out. "For that you need good tractors and machinery, and a dealer that supports you.
"I like the McCormick tractors," he adds, "and I know I can rely on Riverlea for service; I couldn't fault them for the way they respond when we have a problem."
A fleet of McCormick tractors ranging from 60hp to 150hp handles all the major yard and field work on the farm, with individual models chosen for specific types of work.
Three MC130 tractors arrived on the farm recently to tackle everything from feeding in winter to hauling silage trailers in the summer.
"It's a good all-round tractor that's not too big for working in and around our buildings," says Mr Sollis.
The MTX135 tractor bought at the same time is a heavier six-cylinder machine; like the other two MTX models on the farm, this tractor is used for slurry handling and other demanding field work.
The smallest tractor in the farm's line-up – a 58hp two-wheel drive McCormick F60 – is seen scurrying about the cattle buildings every morning. The F60 was designed as a fruit tractor for work in orchards and vineyards but Mr Sollis reckons its tough build and small size make it a first-rate yard scraper – a role often delegated to an old tractor on its last legs.
"With 950 cattle on the farm, we have a lot of scraping out to get done while the cows are being milked," he says. "I want a tractor that starts every morning and doesn't break down; the little McCormick is also very easy to steer in and out of the cubicle passages so the job can be done quickly without a lot of effort."

Riverlea Xtra - Top McCormick Dealer


CASE IH at SIMA 2009


Yorkshire John Deere Dealer Wins National Staff Award