Riverlea Xtra – Top McCormick Dealer
17/02/09
West Wales machinery dealer Riverlea Xtra based at Whitland was the most successful supplier of McCormick tractors in Britain last year. It delivered more of the distinctive red and silver tractors than any other dealership and achieved the highest local market share.
Mike Hill: "The McCormick range represents our heritage but also a significant part of our future."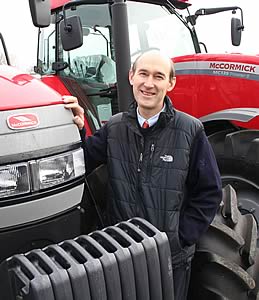 Speaking at an Open Night at the Nantyffin Motel, Llandissilio in front of more than 120 farmers and contractors from Pembrokeshire and Camarthanshire, director Mike Hill thanked McCormick users for their support and pledged to continue setting high standards of customer service.
"The McCormick range represents our heritage, with popular models like the mid-range CX, MC and MTX models providing a link to a number of very successful tractors from the past," he said. "But it also represents a significant part of our future; and it's good to see investment being put into improved performance, reliability and features, as well as into all-new models like the new-generation XTX series."
Steve Cann, McCormick area manager, congratulated the firm on its success.
"Last year, Riverlea achieved the highest market share of any McCormick dealer in the country," he said. "That was a great achievement and one that not only reflects the continued popularity of McCormick tractors but also the standing of Riverlea in the farming community."
After taking a close look at the machines lined up outside the venue, farmers at the evening meeting also heard about the £7.5 million spent on upgrading production facilities at the ARGO Group's Italian factories where McCormick tractors are now built.
McCormick product specialist Paul Wade outlined the improvements seen on latest models, including a new engine for the six-cylinder MC Power6, uprated braking on the four-cylinder CX and a new cab and fresh styling that will be introduced on several models later this year.
"But if you take away just one thing from this presentation, remember the eight-speed powershift transmission fitted to the new-generation XTX and TTX high-horsepower tractors," he said. "It's a unique feature that gives tremendous speed control versatility and a choice of traditional gear-lever or intelligent electronic shifting."
Fellow director Dave Hill reinforced the appeal of the XtraSpeed transmission, as well as the raised quality and reliability standards evident in these new models.
"The first XTX tractors we've delivered on-farm have been very well received and are now clocking up several hundred hours without any problems," he said. "McCormick has a first-class tractor in this new model."
The XTX will be part of a full line-up of McCormick MTX, MC, CX and C-Max tractors on display at The Riverlea Spring Show, being held on Wednesday, 11th March at the Carmarthen Showground.
"This is our biggest event of the year; it runs from 10am to 5pm and then 7pm until late," said Mike Hill. "We'll have about 30 trade stands from all our major franchises, along with advisory and other farming organisations and hope to attract 1500 or more farmers during the course of the day and night!"

Dairy Farm Operations Rely On McCormick


CASE IH at SIMA 2009


Yorkshire John Deere Dealer Wins National Staff Award