Yorkshire John Deere Dealer Wins National Staff Award
12/02/09
Paul Dixon of John Deere commercial & consumer equipment dealer F G Adamson & Son at Swanland, North Ferriby in East Yorkshire has won a national dealership award.
Paul Dixon (centre) receiving his certificate from Sadie Chalkley, chairman of British Hardware Federation and soon to be the first woman president of BHF Group, and BHF Group managing director Alan Hawkins.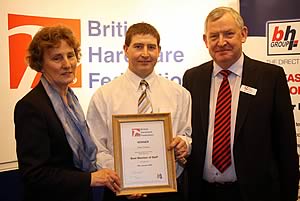 Paul received the British Hardware Federation's Best Member of Staff 2009 award at the trade show Totally DIY in London in January, beating 19 other nominations. Adamsons is a member of the trade association BAGMA (British Agricultural & Garden Machinery Association), which is a division of BHF Group, and BAGMA dealer members are invited to nominate a member of staff for this annual award.
Paul Dixon joined Adamsons three years ago from a small garden machinery business in his home town of Driffield. He works on the retail side of the dealership, as well as selling commercial equipment to caravan parks, local authorities and sports grounds.
Paul was judged to have detailed technical and sales product knowledge, which he passes on to customers in a confident and unassuming manner. Customers are always at ease with him and trust his information, and nothing is ever too much trouble for customers or colleagues, said the judges' citation.
His employer John Adamson added: "Paul is a very helpful person and extremely likeable, he's definitely a very good man to have about the place. Customers trust him with good reason and this makes selling a lot easier. He really does care about our customers and will go out of his way to help them at all times. In addition he is very punctual and scrupulously honest."
British Hardware Federation Chairman Sadie Chalkley commented: "It is wonderful to know that our members find their staff to be such valuable assets to their businesses. Everyone nominated will receive a certificate to show their employers appreciate their efforts."

Debut at Scottish Farm Machinery Show for New McCormick Dealer RiteWay


McCormick Tractors Signs Five More Sales and Service Dealers


Official First for John Deere StarFire Technology