NMR Reports Healthy Profits and Bright Outlook
19/10/08
The NMR group, which includes the UK's market leading milk recording service NMR and the milk laboratory business NML, has reported an increase in net profit to £353,000 for the first six months from April to September 2008 - an increase of more than 400% compared to the same period in 2007. Turnover has increased by 10.6% compared with April to September 2007 to £7.7 million and, on the release of these latest six-month figures, NMR's share price increased by 2p.
NMR managing director Andy Warne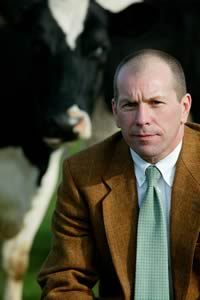 NMR has seen this increase in turnover and profit as a result of more demand for its core milk recording services and also from the use of its recently developed disease-testing services that use milk samples already collected for milk recording.

Improved milk prices and a drive from milk buyers to secure supplies from fully recorded herds are factors contributing to the increased demand for NMR services and the favourable knock-on effects on turnover and profit figures. In addition, the majority of milk buyers are contracted to NML for payment testing purposes. This accounts for 98% of bulk milk samples.

"The increased cash generation has enabled us to expand into new complementary services such as the recently-launched Johne's screening programme," says NMR group managing director Andy Warne.

"Using the individual milk sample collected for milk recording, we are providing quarterly Johne's tests for each cow in a quest to help vets and producers get control of this disease estimated to be affecting – to some degree – 50% of our herds."

Results from milk recording and disease testing services are available in a range of formats. Becoming increasingly important, because of its speed and accuracy, is the NMR web-based service Herd Companion and the Interherd management program – a system used by more than 70% of dairy vets in the UK and by many producers.

"It's the integrated nature of NMR's activities – that uses one milk sample for milk recording as well as various additional tests and disseminates results through reliable and comprehensive management systems – that is proving attractive to today's busy milk producers and vets," adds Mr Warne.

"We are providing a no-hassle, simple and cost-effective portfolio of services. And as more producers take advantage of these, so the demand for core milk recording will increase."

NMR is currently investing in other screening programmes and further developing its core milk recording service.

World Wide Sires Expands Service in South West


Double Trouble Forbidden - Cogent's New +3 Type Merit Sire


Semex Launches Repromax Sire Index