NMR/RABDF Gold Cup Goes to Dorset
21/09/08
Nick Cobb and his team at West Chaldon Farm, Dorchester has beaten off five other herds from across Britain to take the dairy industry's top award – the NMR/RABDF Gold Cup.
Philip Kirkham - left, NMR Chairman and Lady Byford RABDF President present the 2008 Gold Cup to Paul Crocker herd manager , Nick Cobb and father David Cobb.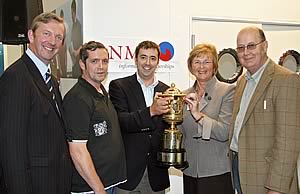 Runner up and this year's recipient of the NMR Silver Salver is Iain McLean from Priestland Road, Bushmills on the Antrim coast. The awards were presented at the Dairy Event, Stoneleigh today (Wednesday September 17).

Part of a mixed farm on the Weld Estate in Dorset, Nick Cobb manages the 700-cow Holstein Chalclyffe herd with his 13 staff including a team of six who between them milk the herd three times a day and spend a total of 16 hours each day in the 24-point rotary parlour.

Included in the dairy staff is a recently appointed apprentice large herd manager whose two-year training package includes a foreign placement and experience with other large herds. Nick hopes to give this opportunity to more young dairy enthusiasts during the next 10 years.

Average yield for the qualifying year ending September 2007 stood at 11,687kg at 4.05% fat and 3.11% protein on three-times-a-day milking. Milk is sold through Dairy Crest on a Marks and Spencer contract.

The SCC stood at 140,000cells/ml, with a calving interval of 387 days and a replacement rate of 21%. Heifers average 24.5 months old when they calve.

Nick believes that the highly skilled team is vital to the herd's – and business' – success and says that every member has a pivotal and valued role within the team.

Commenting on Nick's success, RABDF chairman and one of the judges Lyndon Edwards says: "The sheer scale of the set up on this dairy and the fact that it runs like a well-oiled machine under the watchful eye of Nick is impressive. A blueprint for large herd management is being developed very successfully - it's a progressive, dynamic business and behind its success is a great team."

A first for Northern Ireland, Gold Cup runner up and winner of the NMR Silver Salver is Iain and Joyce McLean. With Iain's father John they have developed a modern system that is geared to maximising the return from the 100 milkers in the Priestland herd. And the system is paying dividends.

The herd was placed seventh in Northern Ireland for combined weight of fat and protein for the year ending September 2007 with milk yields running at an average 10,600kg at 4.23% fat and 3.10% protein. The herd calves from October to June.

During the past nine years a new dairy unit has been built with a new parlour and cubicle housing. Four out-of-parlour feeders mean that high yielders can be individually fed, which has milk production and financial benefits at this time of increasing feed costs.

Iain puts the success of his operation down to a team effort, which includes his nutritionist, breeding adviser and vet. He looks to breed cows with large, powerful frames with good legs and feet and well-attached udders producing volumes of quality milk.

A large proportion of the income at Priestland comes from the sale of surplus milkers and breeding bulls.

Judge Lyndon Edwards comments: "The McLeans run a very well organised business and every detail is covered. The farm is immaculate and they have an excellent herd of high yielding cows with very impressive young stock."

More than 800 dairy herds were eligible to enter this year's NMR/RABDF Gold Cup. The six finalists were selected from all completed entries for their comprehensive business approach and outlook for the future. Joining Lyndon Edwards on the judging panel were dairy farmer and NMR board member Bryan Thomas and 2005 Gold Cup winner John Round.

Winner of the Lilyhill Cup this year, awarded to the highest placed Jersey herd in the Gold Cup competition, is A Marshall from Compton, Guildford, Surrey.

NMR/RABDF Gold Cup - Chris May Memorial Award 2008


Finalists Line Up For Gold In NMR/RABDF Gold Cup 2008


Fullwood Give Farmers More Control at Milking Time