Landini Launches 6544 'Large Compact' Tractor
29/07/08
The Landini 6544 'large compact' tractor has features and a base specification more often seen on higher horsepower models.
The tough 57hp Landini 6544 gets to grips with some land clearance work tackling overgrown brambles and scrub.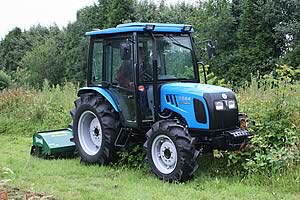 The newcomer has been introduced to complement the existing Compact 40-series models from 28hp to 47hp and bridge the gap to the full size Landini Powerfarm.

"I think this tractor will have widespread appeal for light farm work, so-called hobby farming and groundscare work," says Adrian Winnett of Landini UK. "The standard specification for a tractor of this size is excellent and it's well put together."

The Landini 6544's 2.5-litre Mitsubishi four-cylinder engine develops 57hp and drives through a 32x16 synchro-shuttle transmission with creep ratios included as standard.

For operating implements there is a three-speed pto system that provides 540rpm at standard engine rpm or at a slower speed for greater fuel economy. The 1000rpm setting is suited to more demanding equipment and in all cases the system is engaged at the flick of a switch thanks to the electro-hydraulic control.

Twin double-acting remote hydraulic valves ensure the tractor has no problem operating a wide range of implements and with 1750kg of implement lift available, it can handle plenty of different kit too – especially since a big tractor's combination of draft, position and mix settings are available to suit different equipment and tasks. There is even a convenient one-shot lift lever and release button for quick raising and lowering of implements for headland turns.

The tractor comes as standard with a spacious air conditioned driver's cab, hydrostatic twin-ram steering with 55deg steer angle on the portal front axle, and a steering column that is adjustable for rake to help the driver get comfortable.

Landini's dealers around the country have full details of the impressive new machine.

McCormick Tele-Trac - it's a Tractor as well as a Handler


Case IH wins six AE50 Awards


New John Deere Front Loaders Feature Hydraulic Self-Levelling