McCormick Tele-Trac – it's a Tractor as well as a Handler
28/07/08
The first telescopic handler to carry the McCormick name is more than just a machine for lifting and loading – it can also perform the role of a medium size tractor.
McCormick's new Tele-Trac can work as a handler, lifting 2.85 tonnes and having a maximum lift height of 8.6m. But it can also work as a tractor thanks to its integral implement linkage and power take-off.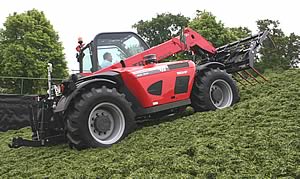 "The Tele-Trac has been designed from the outset with a fully integrated implement linkage and mechanical power take-off," explains Stewart Barnett, UK sales manager. "As well as doing all the jobs a conventional handler can tackle, it will work effectively as a tractor, performing yard and field work with mounted or trailed implements."

This true multi-purpose capability gives the machine a welcome boost in terms of its usefulness and utilisation potential. On some farms, Mr Barnett believes, it will be capable of replacing two machines.

"Suppose you have a tractor and telescopic handler that are getting on a bit, racking up repair and maintenance costs," says Mr Barnett. "Instead of buying two replacement machines, the Tele-Trac could do the work of both."

On a stock farm, the McCormick Tele-Trac could be placing silage bales into ring feeders or straw bales into a cattle yard one minute, and then mowing or raking grass cut for silage the next. It could alternate between clearing out a stock yard and powering a manure spreader.

Arable and mixed farm users could see the machine loading out a grain in the morning and tackling tillage work in the afternoon using a powered or disc or tine implements.

"The specification of the machine means there are few if any compromises in either role," says Stewart Barnett.

For handling duties, the Tele-Trac uses a three-stage boom to lift and place loads beyond the usual 6m or 7m limit of most handlers. A unique control mechanism extends both telescopic sections at the same time to ensure quick cycle times.

Rated capacity (measured to the centre of pallet forks) is 2.85 tonnes and the Tele-Trac will lift this to almost 8m. It will take 2.5 tonnes to within a whisker of its full lift height of 8.6m and hold three-quarters of a tonne at 5.6m maximum forward reach.

For tractor work, the McCormick Tele-Trac has the benefit of a 150hp engine and a hydro-mechanical transmission. This purpose-built drive system combines strong pulling power with the convenience of a power shuttle and infinitely variable fine speed control with fast travel speeds up to 40kph.

There is a pick-up hitch for towing, two-speed mechanical drive pto for powered implements and heavy-duty three-point linkage with 4500kg lift capacity.

"This could easily describe a high-spec mid-size tractor," says Stewart Barnett. "But the Tele-Trac has another trick up its sleeve – the Dual Drive reversible driving seat and controls, which is another feature that adds to the machine's versatility."

With the flick of a lever, the seat, steering wheel and other driveline controls can be rotated on a turntable to face the back of the machine. It can then operate 'front' mounted implements, such as a silage mower, flail topper or power brush with the operator facing the right way.

"The Tele-Trac has a unique set of features; some operators will find the rear linkage useful simply for moving implements around when there's no tractor available," says Stewart Barnett. "But others will work out how a machine with a combination of excellent materials handling performance and decent field work capability can be used to improve cost-efficiency on their farms."

Case IH wins six AE50 Awards


New John Deere Front Loaders Feature Hydraulic Self-Levelling


Tele-Handler and Loader Demonstration at Dairy Event