Case IH wins six AE50 Awards
25/07/08
Case IH has won six AE50 awards from the American Association of Agricultural and Biological Engineers (ASABE). The AE50 awards, which have been run annually for two decades, highlight agricultural products developed to save producers time, costs and labour while improving user safety.
Steiger 485 tractor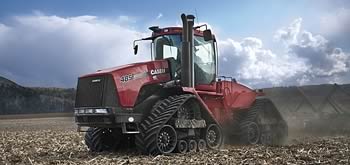 Case IH winning machines include the Steiger® 485 tractor for its turbo compound engine technology, the 2600 Series chopping corn header and the 126-blade MagnaCut straw chopper. Three non-UK market products won the other three Case IH awards; The True Tandem 330 Turbo vertical tillage tool, O-Ring Sealing for sprayers and ST Rice Rotor for Axial-Flow® rice combines.
Case IH Steiger 485 Tractor
The turbo compound technology in the new Steiger 485 engine uses a second turbocharger to convert energy otherwise wasted as exhaust to provide additional power and increased fuel efficiency. This engine also operates more quietly, weighs less and takes less space than the engine it replaces. In addition, the use of two types of turbochargers provides a more even response over a wide range of engine loading.
Case IH 2600 Series Chopping Corn Header
The 2600 Series chopping corn header has a new design that allows the combine operator to more efficiently chop cornstalks for residue management at the same time the corn is harvested. It features a high-capacity rotary chopping device integrated with the row units in a header specifically designed to match the feeder house of Case IH combines. The larger-diameter stalk rolls are designed for greater capacity and force the stalks into the stalk chopper, allowing for faster harvest speeds with consistent crop residue size.


Case IH MagnaCut Straw Chopper
This is the solution for cereal grain customers who require very fine straw-chopping performance over a broad range of straw-moisture conditions. The MagnaCut straw chopper, available on the new Axial-Flow 20 Series, is equipped with 126 fixed-blade rotating knives and 41 adjustable intermeshing counter knives to provide a tailored chop performance in any straw condition, meeting no-till residue management spreading requirements globally.

New John Deere Front Loaders Feature Hydraulic Self-Levelling


Tele-Handler and Loader Demonstration at Dairy Event


Cornish Contractor Racks Up the Hours on Case IH Magnum 225 Tractor