New John Deere Front Loaders Feature Hydraulic Self-Levelling
20/07/08
Hydraulic self-levelling (HSL) is now available on four of John Deere's 3 Series front loader models, which were launched in 2007.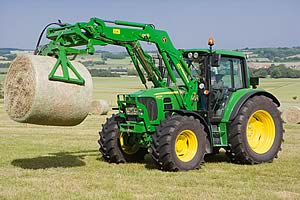 HSL combines the high lift capacity of mechanical self-levelling (MSL) loaders with the optimum implement crowd and tilt angles offered by non self-levelling (NSL) models. It can now be specified on the 583, 633, 653 and 683 loaders, which remain compatible with John Deere tractors from the 72hp 5620 to the 140hp 6830, with the same control options. These models feature lift heights under the implement from 3.47 to 4.20m and lift capacities of around 1.8 to 2 tonnes.

Up to five hydraulic loader functions can be controlled from the tractor cab using a single lever joystick control, which can be floor-mounted or integrated with the right hand control console. Alternatively, an electro-hydraulic joystick control can be integrated with the seat armrest for precise, convenient loader operation, and can be swivelled downwards under the armrest when not in use.

Offering better all-round visibility compared with MSL models, the compact HSL loader design employs twin slave cylinders, and is based on reliable, well established technology used in the construction industry. The loader can be fixed in two positions using removable pins, taking about 10 minutes to switch from one to the other, making it easily adaptable to different loader jobs.

The first position is equivalent to MSL, and keeps the implement level during lifting; the second is particularly designed for use with buckets, and automatically tilts the attachment back as it lifts up. In addition, the design allows the tractor to enter buildings with low doors while still being able to work as high as possible into the roof space.

Also for 2008, lift height has been improved by 10cm, to 4.10m under the implement, on the top of the range 753 front loader. This model is suitable for use with John Deere 6930, 7430 and 7530 tractors from 155 to 180hp.

Tele-Handler and Loader Demonstration at Dairy Event


New John Deere XUV Gator at Royal Show


Native Breeds for Modern Needs Launched