New Holland Top Service at Grassland and Muck
22/05/08
New Holland's stand at this year's Grassland and Muck event includes every aspect of the brand's services from finance through to parts and servicing. This reflects the importance of the show and customers' 'total solution' approach to product purchase.
New Holland T6000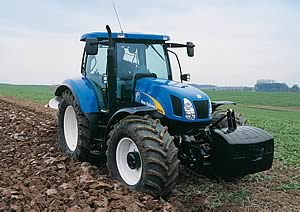 New Holland's marketing manager, Dick Spencer, looks forward to a successful show. "These are exciting times at New Holland. The machinery industry has been on fire for the past six months and demand continues to stretch the supply capabilities of many manufacturers. New Holland is enjoying a very positive period with sales penetration for tractors, combines and other equipment steadily growing. Having what must be considered as the most complete tractor product offering we have ever had, can only improve the likelihood of further growth and accelerate our return to a leading position in both the UK and Irish markets. As a result of careful planning and production forecasting, we still have a plentiful supply of tractors, with our dealers equipped with good levels of available stock for immediate delivery if requested.

"At Grassland 2008, we intend to make a strong message to customers that we can offer a full range of tractors, loaded with modern and innovative features that can provide absolute benefits. These benefits include machine performance, operator comfort, proven quality and reliability and of most significance, fuel savings.

"Aftersales support is the key to success and working with our dealer business partners, we continue to develop and improve the level of support, using processes such as Top Service support, which is under-pinned with a professional call-centre. During peak times of the year, we can offer non-stop levels of technical support to our customers - necessary to ensure the smoothest of farming operations."


New Holland Top Service representatives will be on hand to discuss the benefits of this industry-leading customer service, channelling all the brand's resources into supporting its customers 24 hours-a-day, 7 days-a-week, all year round. The New Holland Top Service team, which includes technical experts, parts and logistics specialists, works in close partnership with the dealer network. The team can source and distribute parts rapidly from its depots and factories across Europe using the express delivery system, or immediately call on the engineering and service teams to identify the best solution, and for customers with flagship products in warranty, there is extended in-season support during this critical time.

The increasing catalogue of Gold Value parts provides New Holland's customers with competitively priced components for older machines. "Many farmers operate older tractors that can still perform useful operations around the farm. The growing Gold Value parts range, which can be ordered via the New Holland website, enables these machines to stay productive without being expensive to maintain," explains Parts marketing manager, Artem Alexeev.

The renewal of machinery forms a major part of customer's business plans and CNH Capital offer many finance solutions to complement their business. CNH Capital staff will be working alongside their New Holland colleagues to discuss the wide range of options, which can be adapted to seasonal fluctuations in customers' turnovers and cashflows.

"What better way to illustrate our ambition and to show that there is no limit to our growth objectives, not even the sky, as we launch the New Holland hot air balloon, GCROP, for it's maiden flight," concludes Mr Spencer.

New Holland's Grassland and Muck Demos Run on Biodiesel


New Pressure Recirculation for John Deere Sprayers


Claas Xerion and Kaweco Tanker Combination make Grassland Debut